THE TrakPower MS Series 8.5 Turn Brushless Racing System Review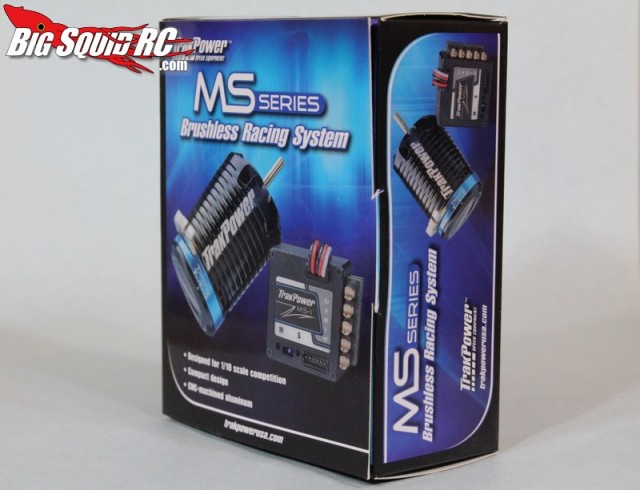 We reviewed the TrakPower 10.5 MS Series system a few weeks and found out it was indeed a high quality product. Today we'll be taking a closer look at the 8.5 turn version. Is it a lot faster than the 10.5? Is it the best sensored system money can buy? Hit the "read more" button and lets find out…
From: TrakPower
Direct Link: MS Series 8.5 System
Reviewed by: Cubby
Pics by: Cubby
Part #: TKPC6025
Street Price: $260
Speedo Specs:
Waterproof: No
Motor Limit: 2.5 turn (on 2S)
Input Voltage: 3S Lipo max
Rated current: 100 amps cont.
Low Voltage Cut-off: Yes
BEC: 6 volts, 3 amps
Motor Connectors: Direct solder
Battery Connector: None
Reverse: Yes, programmable
Sensored- Yes
Weight: 55 grams
Dimensions: 24 x 33 x 36mm
Wiring: 12 AWG
Blinky mode: Yes
Programming: Manual
Fan- No
Motor Specs:
Size: 540
Sensored: Yes
Turn: 8.5
Max Voltage: 3S Lipo
Shaft Diameter: 3.175mm
Dimensions: 35.9mm x 52.4mm
Weight: 175 grams
Top Speed (measured by BSRC): 38 mph
What's In The Box: Speedo, motor, double sided tape, wires, sensor wire, sensor clip (clamp), and instructions.
Direct competitors: 8.5 sensored systems from Viper, Novak, LRP, and Tekin.
Build Quality: Both speedo and motor felt, and looked, of very high quality.
Test Drivers: Cubby, Brian, Jason and Iron Mike
Test Venues: RC Outlaws in Collinsville IL, Leisure Hours in Joliet Illinois, baseball diamond, cul-de-sac, and a grassy backyard
Set-up Notes: We installed the TrakPower 8.5 system in an Associated B4 buggy. A Futaba 3PKS was used for signal, a Hitec servo was used for the steering duties, and we used a Pro-Match 2S 5000 mah Lipo for power. Our B4 was geared stock spur (81) and a 25 tooth Robinson pinion. We changed two speedo settings- we cranked in 20 degrees of timing and added reverse.
Ease of Use: The instructions were brief yet informative and easy to understand. Programming is done manually on the Trakpower, and both calibration and setting changes were quite easy. The Trakpower is set-up for the racing crowd so it requires the end user to solder up all the wires. This takes some time, but is the way to go if you are looking for a perfect install.
Drivability/Feel/Powerband: Just like the 10.5 TrakPower system we reviewed a few weeks ago, the 8.5 system had an impressively smooth powerband. From a dead stop the Trakpower 8.5 took off without a hitch every time, then pulled smoothly through the rpm range. There was no massive low end hit like some non-sensored systems, it was the type of smooth power where the more trigger you gave it, the more power you got, with nothing unexpected in between. If you are looking for an exceptionally smooth and easy to drive brushless system, the TrakPower is it.
Thermalling: We did manage to thermal out the speedo one time. The ambient temp was around 70 degrees Fahrenheit and we were driving the low slung B4 in relatively tall grass. After we dropped two teeth and backed off the timing we could no longer thermal the speedo out.
Cogging: Even when attempting to get it to cog, we experienced none.
Power: With the TrakPower 8.5 system in a light, low rotating mass B4 buggy, and with relatively tall gearing (with a bit of timing kicked in), the system had impressive power. For instance, when driving for the radar gun to get a top speed reading our buggy could wheelie on demand at pretty much any speed. For an 8.5 sensored system that is some serious power. At the baseball diamond our TrakPower 8.5 buggy had more power than our buggy could put down on the loose dirt. On a hard packed track the TrakPower allowed our buggy to easily make every jump on the track. No, the 8.5 TrakPower doesn't put out the huge wattage figures of some non-sensored systems on high cell counts, but for a sensored system, it put out more than enough power to do all sorts of fun stuff with.
Brakes: The brakes were just as smooth as the powerband. If you gave the TrakPower a little trigger you got a little bit of brakes, if you gave it a lot, you got a lot of brakes. Very predictable, yet more than strong enough to get the job done.
Fit: One thing I forgot to complain about in the TrakPower 10.5 review was the length of the sensor wire. In both our 10.5 install (in a Pro-Line Pro 2) and with the 8.5 system (installed in an Associated B4) the sensor wire was barely long enough. Yes, it was long enough to work, but not so long as to allow us to mount the speedo in any position we wanted to. The motor wires were plenty long for any application, but with a short sensor wire it makes the longer motor wires moot.
As far as the actual speedo and motor were concerned, they mounted up without issue. The speedo has a relatively small footprint and the motor is a standard 540.
---
Summary:
A = Outstanding/Best in Class, B = Above Average, C = Average, D = Below Average, F = Horrific
Time To Bash: C The TrakPower is easy to program but soldering up all the connections can take some time.
Car Show Rating: B The BSRC Bash Crew liked the "murdered out" black look of the Trakpower system. Black is all the rage now days and the Trakpower system looks good when mounted in a car.
Bash-A-Bility: B We experienced no day ending issues, but it did thermal out on us while driving in grass. When we geared it properly we experienced no issues.
Fun Factor: B The TrakPower 8.5 system shows what "mod" power is all. It isn't slow and sedate like a 17.5 or mild brushed set-up, it's legit fast and capable of pulling wheelies at nearly any speed. It has the type of power that one yank of the trigger can put a smile on your face.
Drivability: A Our testers have spent hours talking about just how impressively smooth the TrakPower system is. To date we have to say it is the smoothest, most drivable that we've ever tested. The combination of the speedo programming and the way the motor puts out its power results in a HOF smooth powerband.
Power: B For a sensored system the TrakPower 8.5 puts out impressive power. No, it's not in the same league as some of the non-sensored systems on the market, but the TrakPower 8.5 has good yank that is easily controlled.
Value: B When we tested the TrakPower 10.5 system a few weeks ago it had decent power, but not the type that was really impressive. The 8.5 had more power on tap, enough to do wheelies on command at pretty much any speed, and that's the point where you get a really good taste of what brushless power is all about. Combine the impressive power with perhaps the smoothest power delivery that money can buy, the $260 price point becomes a good value.
BigSquid Rating: B The TrakPower MS Series 8.5 system had good power with exceptionally smooth power delivery. Is it the best high-end sensored system on the market? I think only a shootout can answer that question for sure, but we were extremely impressed by the TrakPower 8.5 and recommend it to you.