Review – Traxxas EZ-Peak 4 amp NiMH Charger
THE Traxxas EZ-Peak 4 Amp Charger Review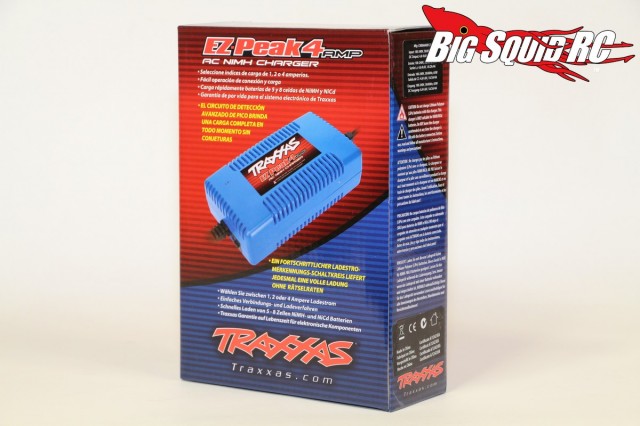 This week we are taking a closer look at the Traxxas EZ-Peak 4 amp AC NiMH Charger. The EZ-Peak is aimed right at normal bashers who use NiMH packs but are looking for a good, fast charge. Is it any good? Let's find out…
From: Traxxas
Direct Link: EZ-Peak 4 amp AC NiMH
Review By: Cubby
Pics By: Cubby
Specs-
AC Input: 100-240v
DC Input: N/A
Battery Type: Ni-MH and NiCd
Max charge rate: 4 amps
Charge rates: 1, 2, or 4 amps
Cell count: 5-8 cells
Internal Power Supply: Yes
Connectors: Traxxas
USB: N/A
Part number: #2931
Warranty: 30 days
Street Price: $39
Primary Competition: Duratrax Onyx 100, Dynamite Prophet Plus II, Radient Origin
What's In The Box: The Charger and owners manual.
Build Quality: The EZ-Peak 4 amp is all plastic but felt well constructed.
Testers: Cubby, Tim, and Iron Mike
Set-up Notes: We used two different NiMH packs during our review, a 6 cell Dynamite 1800 sport pack and a 6 cell MaxAmps 4600 race pack. Traxxas connectors we used on both.
Ease of Use: The Traxxas EZ-Peak is the easiest to use charger you can buy. You set the amp rate via a switch on the side then plug your pack in, there isn't even a start button. When the light is red your pack is charging, when it turns green it is done. Yes, it is that simple.
Power: Uber chargers can do up to 40 amps, but at 4 amps the EZ-Peak beats the snot out of a typical overnight wall charger.
Broken Parts/Issues: We played battery charger soccer with it, we dropped it off of tables, we piled heavy gear on top of it, and it still works as well today as when new.
Misc Notes:
The EZ-Peak has extra long cords for both AC power and for the output to the battery. We liked the long cables, it helped make the charger more convenient to use.
The EZ-Peak is an AC power only charger, which is great if you are around AC, but sucks if you are out at a bash spot and want to charge off your car battery. If you bash where there is no AC power this isn't the charger for you.
Don't even think for a second of using the EZ-Peak on your Lipo. It's just like any other NiMH only charger, it will send any Lipo you hook to it into thermal runaway (which means you will have a fire).
The EZ-Peak has a small footprint and easily fits in most any gear bag.
The EZ-Peak is super quiet, that is music to our ears. Achtung industry, quiet chargers/power supplies are the way to go and much appreciated by the end user.
Traxxas are the connectors of choice around the BSRC offices, however, that is the only connector the EZ-Peak comes with. We would like to have seen an assortment in the box.
---
SUMMARY
A = Outstanding/Best in Class, B = Above Average, C = Average, D = Below Average, F = Horrific
Time To Bash: B If your packs already have Traxxas connectors then you are good to go. If not, you'll be buying adapters or solding some up.
Car Show Rating: B Modern, clean look, well liked by the staff.
Bash-A-Bility: A We beat the 4 amp EZ-Peak fairly hard and it still works fine today.
Power: C Much stronger than a wall charger, but average for its price point.
Value: C The EZ-Peak hits the wallet lightly at just $39, but is bare bones for features.
Big Squid Rating: B- The EZ-Peak was a solid charger for us. It took a beating, gave solid charges, and was the easiest to use charger we've tested.