Just in time for the summer, Traxxas releases the TRX-4 Sport. The Sport is the latest TRX-4 model and will be all over the trails before you know it. So, what makes this one so different from the Defender, Tactical Unit and the Bronco? Sit back, relax and find out what the TRX4 Sport has to offer in this review.
From: Traxxas
Direct link: TRX-4 Sport
Unboxing pictures: BSRC Unboxes The TRX-4 Sport

Review By: Jeremy Griffith
Photography By: Jeremy Griffith
Specs:
RTR or Kit: RTR
Ages: 14 and up
2wd or 4wd: 4wd
Shaft or Belt: Shaft
Electric or Gas: Electric
Waterproof: yes
Scale: 1/10th
Length: 21.93"
Width: 9.8"
Wheelbase: 12.28"/ Adjustable
Weight: 5.79lb
Motor:  21 Turn Reverse Rotation 550
Speed Controller: XL-5 HV
Low voltage cut off: Yes
Radio: TQ 2.4GHz 2 channels
Differential: Spool no differential
Driveshafts: Plastic sliders
Shocks: Oil filled coil-over GTS
Servo Saver: Nope
Screws: Hex
Spur/Pinion Pitch: 32P
Bearings: yes:
Tires: 1.9 " Canyon Trails
Battery: None
Part Number: 82024-4
Bashing Specs:
Wheelie on demand: Maybe if you're lucky
Backflip off ramps: Nope
Stability control: No
Sound module: No
Self-Righting: No
FPV: No
Run Time (measured by BSRC 35 mins on a 2s 2000mah lipo): 40 minutes
Top Speed: maybe 5 mph.. hard to clock at lower speeds.
Street Price: $359.99
Features:
Light lexon truck body
Low profile bumpers
Red diff covers
Fully waterproof ESC
Upgradeable single speed transmission
Full time locked differentials
Canyon Trail 1.9s
Aluminum GTS Shocks
Steel frame
Metal gear servo
Adjustable wheelbase
Steel links
Portal axles

Primary Competition:
Everybody wants a piece of the crawler demographic right now so any company that puts out a crawler at this time has competition. CRC, Axial, Vaterra, HPI, Red Cat and RC4WD just to name a few.
Need to complete:
You will need a battery and a charger for the Sport along with 4 AA batteries for the transmitter.
Build Quality:
Solid rig right out of the box.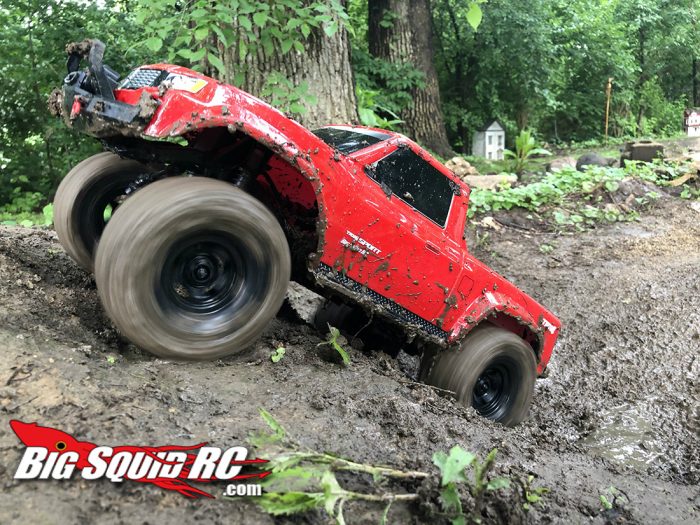 Test Drivers: Jeremy Griffith
Test Venues: Juicebox Off-Road Park
Turning: Nothing new on the servo, still a little weak. The Turning radius with full locked diffs is quite surprising and can still make those tight turns.
Jumping: You're not going to be breaking any world records for jumping the TRX-4 Sport. Although you are able to get some air time but nothing to sing about.
On-Road: I wouldn't be on the road for too long with the Sport for the simple fact that it will eat up your tires and it's a lot more fun to off-road where the TRX-4 Sport feels at home!
Grass: The Sport has power for the scale prairie aka "grass". In fact, after a day in the mud the grass will help clean off the tires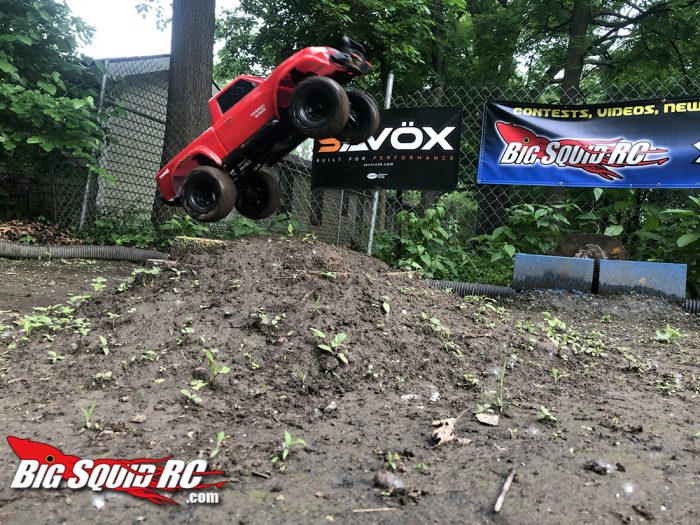 Tires: Nothing new with the tires. Still the same Canyon trial 1.9s that come on the other TRX-4s. Being stock RTR tires they can hold their own and definitely get you out of a sticky or non-sticky situation
Power: The 21T Titan 550 is a little monster. Never had any issues with it and that's even with getting some nasty mud inside it. If you ever have to change the motor it won't break the bank.
Radio: This version of the TRX-4 comes with a 2.4 TQ 2 channel. Since the Sport does not come with the 2 speed transmission or unlockable diffs you really don't need anything crazy for this RTR rig. The best part about the 2.4 TQ is how easy it is to bind to the receiver.
Broken parts: I thought for sure when I jumped it into a 3 foot water hole it would of broke something but nope. Out of the box the Trx-4 Sport comes ready to be put to the test.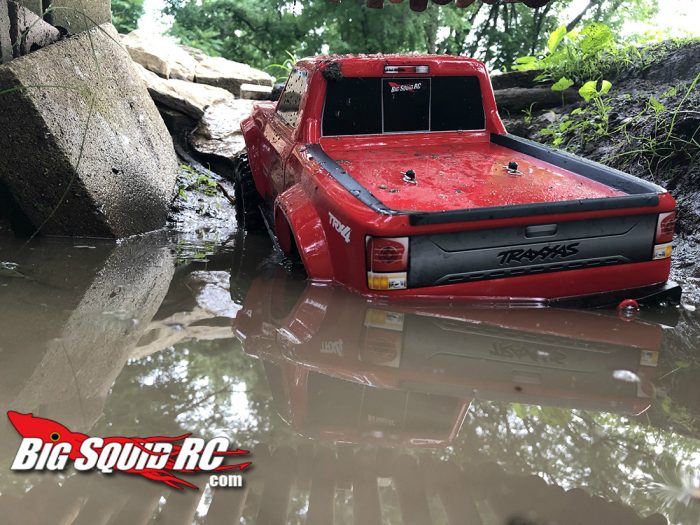 Whats new: So what makes this TRX-4 different from the other three?
First, it's a single speed transmission.  With the single speed transmission, the new TRX-4 Sport still has plenty of wheel speed.
Second, is the permanently locked diffs. In the three previous TRX-4s you were able to unlock and lock the differentials. In my opinion I kind of like the locked diffs on the Sport because there's been a handful of times when I've been driving my bronco and I forget to lock or unlock the diffs. This way it's more more user friendly and it helps keep the price down.
Third, is the remote, this time around the TRX-4 Sport comes with a 2.4 TQ 2 channel instead of the TQI 4 channel. 
Lastly, the most noticeable difference about the Sport just by looking at it is the body. The previous TRX-4s have all been SUVs. The Sport pick- up has a nice aggressive looking front grill. You also get a nice sticker set for the truck. Out of the box, there are no wheel wells but you will be able to purchase them, by themselves, along with a bunch of scale goodies Traxxas is releasing for the TRX-4 Sport. That is something I'm definitely going to be adding onto this little truck. Other than those key points the TRX-4 Sport hasn't really changed from the other three models.
What really interested me was the price at $359.99; for a stripped-down version of the previous TRX-4s it is a good deal. Even with it being stripped down you still get an amazing crawler out of the box and ready to go.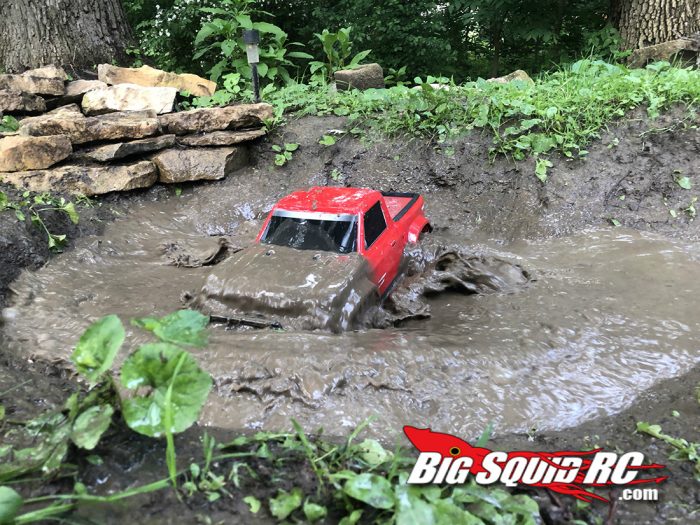 We have had a lot of rain the last couple days in the Chicagoland area so my off-road park was a swamp. I got about 35 minutes of trigger time with it mainly because I couldn't keep from going full throttle. From the technical rock formations to the monster jam track and even through flooded mud holes, the TRX-4 Sport took it all.
Best Mod: I would have to say the best mod for the Sport is still the servo. It's a heavy truck and at times the stock servo can get over worked when you are doing some hardcore crawling.
Summary:
A= outstanding/Best in class, B = Above Average, C =Average, D = Below Average, F = Horrific
Time to bash: B Just charge a battery and you are good to go.
Workability: B The TRX-4 Sport is a bit easier to work on now that they have taken some of the mechanical workings out.
Car Show Rating: C The body is kind of plain out the box. For a RTR non-licensed body you really can't complain. The Sport does however come with a lot of stickers and leaves it up to the owner makes the cosmetic decisions.
Bash-A-Bility: A Just like the other TRX-4s the Sport is force to be recon with.
Fun Factor: A It's a great crawler and basher which normally don't coincide but it works well with this truck.
Handling: B With the locked diffs it is more of a ridged torc ride but it balances itself out with the portal axles.
Value: A The street price of the TRX-4 Sport is $359.99, making it the cheapest TRX-4 yet. For a RTR you definitely get your money's worth with right out of the box.
Parts Availability: A One thing you can always count on from Traxxas is the arsenal of parts for all their vehicles.
BigSquid Rating: B+ The TRX-4 has been around for a while already but Traxxas has a good way of keeping it fresh and new for the customers. I look at the TRX-4 Sport as more of an entry level crawler. Someone who has always wanted to try crawling but doesn't want to spend a lot of money.