Fresh off taking the win in our scaler shoot-out, the Traxxas TRX-4 makes a return with a newer model, the TRX-4 Tactical Unit. How does this militaristic machine stack up? What's different? Read-on to find out!
From: Traxxas
Direct Link: TRX-4 Tactical Unit
Unboxing Pictures: BSRC Unboxes The TRX-4 Tactical Unit
Review By: Doug Welker
Photography By: Doug Welker
Specs:
RTR or Kit: RTR
Age: 14+
2wd or 4wd: 4wd
Shaft or Belt: Shaft
Electric or Gas: Electric
Waterproof: Yes, and this is legit.
Scale: 1/10th
Length: 23.07″
Width: 9.78″
Wheelbase: 12.75″
Weight: 6.9 lbs
Motor: 21 turn reverse rotation, 550
Speed Controller: XL-5 HV, 3S capable
Low Voltage Cut-off: Yes
Radio: TQi 2.4 GHz, 4 channels
Differential: Front & rear gear diffs, remote locking
Driveshafts: Plastic sliders in the center
Shocks: Oil filled, aluminum bodies, plastic caps
Servo Saver: None
Screws: Metric, hex
Spur/Pinion Pitch: 32 pitch
Bearings: Yes
Tires: Canyon Trail 1.9″
Battery: Not included
Part Number: #82066-4
Warranty: 30 days on electronics
Bashing Specs:
Front wheel travel (vertical only, axles level): 1″
Rear wheel travel (vertical only, axles level): 1.2″
Wheelie on demand: No, although on a high grip surface you can sorta get the rear end in the air by doing a quick reverse/forward move.
Backflip off ramps: No
Stability Control: No
Sound Module: No
Self-Righting: No
FPV: No
Top Speed (measured by BSRC on 2S LiPo): 5 mph in 1st gear, 9 mph in 2nd
Runtime (measured by BSRC): A very long time.
Street Price: $419
Primary Competition: It's a long list these days. The Axial SCX10 II, Vaterra Ascender, HPI Venture FJ, Various RC4WD trucks…it's a hot segment with major competition.
What's Needed To Complete: You'll need AA's for the transmitter and a battery/charger for the truck.
Build Quality: Quality construction out of the box with good gear mesh and no finish issues.
Test Drivers: Claude Buster, Lily the Explorer, Luke the Electrician and myself.
Test Venues: Mark Twain Hobby Center Comp Crawling Course in St. Charles, MO, Wright City Park in Wright City, MO and various backyards/parking lots.
Turning: The steering geometry on the TRX-4 is great and given the size and weight, it feels nimble on the rocks. The stock servo is a tad weak and can be a bit problematic at times, particularly under a heavy load like you'll find crawling. If the diffs are unlocked it has a fairly tight turning radius.
Jumping: This is a heavy truck with a low top speed, so outside of popping curbs you aren't gonna be jumping much. It is extremely tough in falling/dismount situations though. We launched it off a 7′ parking lot embankment several times and it acted like a big lawn dart. It had no problems driving away though!
Bumps/Whoops: Hitting a section of bumps in high gear is actually a lot of fun thanks to the way it bounces around. Still, this kind of vehicle isn't made for truly high speed off-road adventures. You'll get a lot of bounce and wobble.
On-Road: The truck doesn't handle great in on-road situations, but if you un-lock the diffs and run it in second gear it isn't too bad! Don't get me wrong, it still handles like a bathtub on wheels compared to a typical bash truck, but for scaler it's pretty good.
Grass: A total animal in the grass. The testing for this review was done in late fall when the grass is thick and leaves are strewn all over. The TRX-4 Tactical had absolutely no problems trucking through even the heaviest foliage.
Tires: The Canyon 1.9's are the same tire that came on the original TRX-4 and are very good for a RTR. The military-style wheels are unique to the Tactical Unit and, while only cosmetic in difference, look really sharp. Our testers all preferred these over the original ones.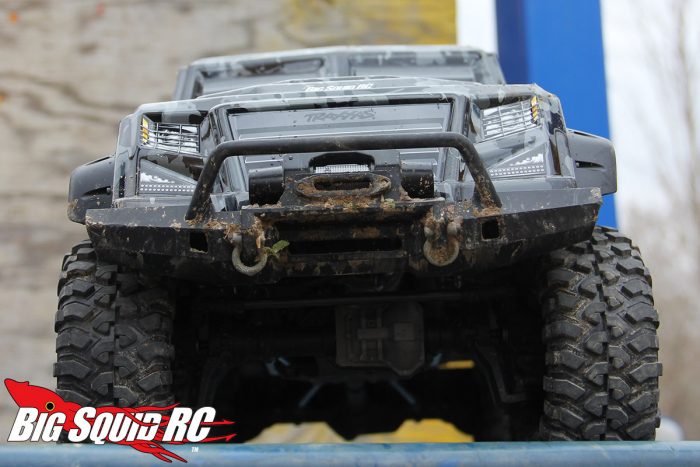 Rock Crawling: This is the "main event" category, and it's a spot where the TRX-4 Tactical Unit excels, particularly when comparing it to it's close relative, the Defender bodied version of the truck. Now, the Defender truck is still a very capable crawler, but the lighter military body on this one (close to half a pound!) allows the truck to make some truly gnarly lines that the first one could not. This is especially evident when side-hilling.
The portal axles are of tremendous help when crawling as they help the big truck clear many obstacles that a similarly sized 1.9 rig would have problems with. There is also a total lack of torque twist, even when crawling in second gear. It's fantastic out on the rocks.
The TRX-4 comes with a very nice crawling drag brake that does an admirable job of holding this heavy truck on the rocks. Even if many times it's not a true total hold, it still makes for much easier descents. Note that it does not come out of the box with the crawling hold engaged and you have to turn it on.
Power: The 21T brushed motor isn't a torque monster, but it's more than adequate for the job at hand. It's got a nice grunt in low gear and feels peppy when in high. The truck has more wheel speed than any other RTR scaler on the market place and this is noticeable. Should you burn one of these motors up, it's also pretty cheap to replace. You won't be mistaking it for a sensored brushless system, but we think it's a nice setup.
Radio: The 4 channel TQi is a nice RTR style 2.4 ghz radio with several important bells and whistles. You switch from high and low gear via a switch on the pistol grip. You operate the three differential lock settings on top of the radio via a small metal toggle (unlocked, front locked/rear open and totally locked). The radio operates smooth and we never had any interference or glitching, even when driving through water. It's a solid unit.
Broken Parts: While the truck may be mechanically complex, it's tough as an Ox. In continual hard bind situations, the drive train held together. Once we got outside of normal testing, we decided to get really stupid. We jumped it off playground equipment and park benches and it held together. We finally decided to launch it off railroad tie wall that's about 7 feet tall. We did this several times and nothing broke. The worst fate that fell upon our test truck was we partially stripped a hex on one of the wheels, but we swapped the spare tire for it and all was well (hey, who knew those were actually useful?). Again, the TRX-4 is a very tough vehicle.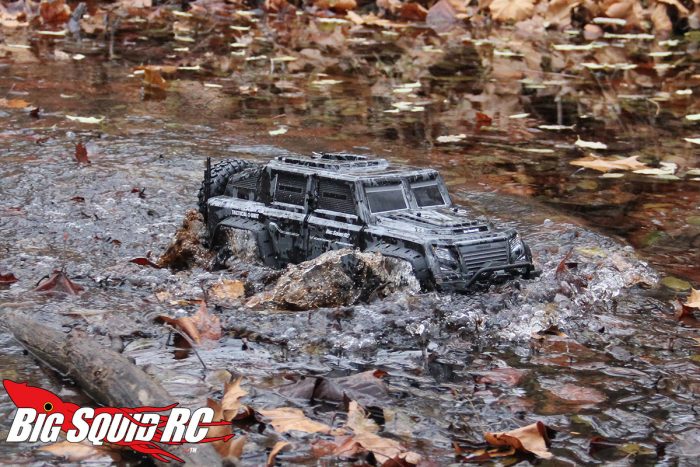 Misc Notes:
So what all are the actual differences between the Land Rover Defender and Tactical Unit models? In short, the body and wheels. While the wheels are a purely cosmetic difference, the body does change things up. The Land Rover version of the truck weighs in at 7.43 lbs and has a total height of 11.1″ . The Tactical Unit weighs in at 6.9 lbs with a 9.9″ height. Not only is Tactical Unit lighter and shorter, but the weight is not up as high as the Land Rover, which sports a big roof rack. Having put in a lot of time with both vehicles, this is noticeable. While not a total night and day difference, the TU is the better performer.
While this truck is very good on the rocks, in a trail driving scenario it's best in class, hands down. It can rip through grass, dirt, sand, gravel, roots and other terrain you'll find out in the bush. Being able to run in high gear with the diffs unlocked can be fun to bum around in, and then when the going gets tough just put 'er in low and hit the lockers to get to work. It's a very versatile and capable trail rig.
Like the Land Rover version, when you mount and pin the body down, it all fits snugly into a sort of sealed undercarriage with inner fenders. This really helps keep all muck out and also looks scale by keeping all of the electronics hidden.
The body goes on very easily, but seems to stick a little bit in the back when trying to remove it. This acts as a sort of hinge system and makes us wish the body mounted like this, similar to how the Red Cat Everest Gen7 Pro works.
Speaking of the rear, the bumper on the back does have a tendency to hang up on obstacles, especially when crawling over loose rock.
The truck is listed as waterproof and in testing we found this to absolutely be the case. Even when totally submerged there was no glitching. Also, like the Land Rover model this version wants to float thanks to the air pocket under the body.
The cruise control function on the radio may sound like a gimmick, but if you take part in long trail runs then it's a feature you'll appreciate. You simply engage it on the radio and then pull the trigger to disengage. Very simple and no frills operation.
Best Mod: The servo is definitely what you should spend your first upgrade dollars on. The stock one likes to get hot and doesn't have a ton of yank.
---
Summary:
A = Outstanding/Best in Class, B = Above Average, C = Average, D = Below Average, F = Horrific
Time To Bash: B  Our truck was ready to go after charging a battery.
Workability: B  There is a lot going on here mechanically, but the smart layout and good hardware make the TRX-4 easy to work on.
Car Show Rating: B  Our testers all talked a lot about this rating and we all came to the same conclusion- while it's not officially licensed, it still looks really good. This is an intimidating urban assault style rig with very aggressive looks.
Bash-A-Bility: A  We did about everything we could to try and break our test unit and it kept coming back for more. This is extra impressive given how mechanically complex and heavy the truck is. It's a tank.
Fun Factor: A  The versatility of this rig makes for a very fun truck. You can crawl, trail, ford rivers and bash the heck out of it. Shifting gears and locking the diffs is also a lot of fun. It kept smiles on our testers faces with hardly any hassle.
Handling: B  Compared to a standard basher-style vehicle, it doesn't handle great. Compared to another scaler, it's about as good as you'll get from an RTR. The stock servo is a tad weak, though.
Value: A  The Tactical Unit is priced at $419.99, which is $30 cheaper than the Defender version. We feel this is a substantial value as you are getting a feature rich, tough vehicle that's ready to do some major rumbling right out of the box.
Parts Availability: A  The TRX-4 platform has been available now since the summer and parts support is where you'd think it would be – they are at most hobby shops. The aftermarket has started to take off around it as well.
BigSquid Rating: A-  The Tactical Unit is a slightly leaner, slightly meaner, slightly cheaper version of the proven TRX-4, and we enjoyed the heck out of it. We give it a hearty recommendation.