Review – Vaterra Glamis Fear 1/8th RTR Buggy
THE Vaterra Glamis Fear 1/8th RTR Buggy Review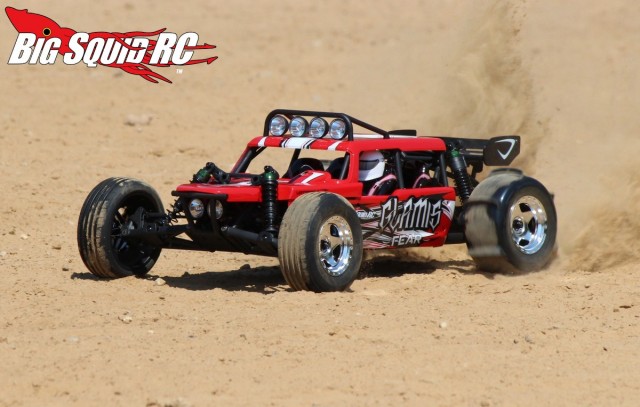 When we reviewed the Vaterra Glamis Uno a few months ago we were quite impressed. Vaterra is after all a new company and you would think they would have some teething pain. We found very few problems with the Uno. Today we'll be taking a closer look at the Uno's brother, the new 4 seat scale buggy called the Glamis Fear. Is the Glamis Fear a solid buggy? Does it take a good beating? Does it have enough power to satisfy even a long time hobbyist? Click the "Read More" button to find out…
From: Vaterra
Direct Link: Glamis Fear
Unboxing Pictures: BSRC Unboxing the Fear
Review By: Cubby
Pics By: Tim
Specs:
RTR or Kit: RTR
Age: 14+
2wd or 4wd: 2wd
Chassis: Aluminum
Shaft or Belt: N/A
Electric or Gas: Electric
Waterproof: Yes
Scale/Size: 1/8th
Length: 18.7″
Width: 11.41″
Wheelbase: 13.7″
Weight: 6.75 lbs
Motor: Dynamite 540 3300kv non-sensored brushless
Speed Controller: Dynamite Fuze
Low Voltage Cut-off: Yes
Radio: Spektrum DX2L
Differential: Viscous ring/gear
Slipper Clutch: Yes
Driveshafts: Bones
Shocks: Plastic threaded bodies
Screws: Hex
Spur/Pinion Pitch: 48p
Bearings: Full set
Tires: Vaterra S Compound
Battery: Dynamite 2S 7.4v 3000 mah Lipo
Part Number: VTR04001
Top Speed (measured by BSRC): 36 mph on stock Lipo
Warranty on buggy: "… will be free from defects in materials and workmanship at the date of purchase."
Battery Warranty: 1 year
Street Price: $420
Primary Competition: ARRMA Raider, Associated SC10B, Vaterra Glamis Uno
What's Needed To Complete: Nothing, everything you need comes in the box.
Build Quality: Our review Fear looked to be well assembled. The pinion/spur mesh was properly set, the shocks weren't leaking and had proper oil in them, and we didn't notice excessive flash on any of the plastic parts.
Test Drivers: Cubby, Tim, "Iron" Mike, and Sam "The Noob"
Test Venues: Cliff Cave Park in St Louis Missouri, RC Outlaws in Collinsville IL, and a friendly neighborhood cul-de-sac
Set-up Notes: We ran the Fear bone stock, even with the stock EC3 connector. We tested the wall charger, but primarily used a Hitec X1 for charging duties.
Turning: Like the Uno, the Fear has a bit of over-steer. On dirt the over-steer allows the Fear to go where you point it in corners, on high bite surfaces it can lead to traction roll. After driving the Fear for hours, you learn to appreciate all the wonderful steering. Generally it's quite predictable in the corners, and more importantly, it goes where you command it to go. If you want a great turning machine, one that can pivot easily on a tight 180, yet can hold tons of momentum on a sweeper, the Fear fits the bill nearly perfectly.
Jumping: For a 2wd machine, the Fear jumps very well. It generally takes off straight and flies flat. If you are used to driving short course trucks, you'll be especially impressed by how the Fear jumps as it exhibits zero parachute effect. Even blown out jump faces don't trip up the Fear, you can pound a torn up jump face and usually the Fear still hits the air controllably.
Bumps/Whoops: The relatively large wheels/tires (compared to a 10th scale buggy) combined with well thought out damping and spring rates result in a buggy that can pound the whoops hard. The Fear can enter into some seriously rough sections, sections that would have many an SCT swapping like a '79 YZ250, and blow right through, wide open, bone straight. The Fear inspires confidence in the rough compared to other vehicles its size and type.
On-Road: Our Fear seemed to have more chassis roll than its brother the Uno, thus making it traction roll on pavement. Yes, the Fear has loads of grip on pavement, but you had to be careful (at speed) not to attempt to turn too tightly or it would flip on its lid. Is it a bad on-road machine? No, it's a lot of fun, however you'll have to change some settings to make it easier to drive on-road.
Grass: Your average monster truck will navigate grass easier than the Fear, so if grass is your thing you might want to go with a vehicle with larger tires. Compared to other vehicles of its size/class, the Fear did very well in grass. A big part of that was its rear tires that gave good grip on the green stuff and its hearty power plant that had plenty of torque to shove the Fear through even fairly tall grass.
Off-Road:
Track- The Fear scoots around a prepped outdoor track very well, with the exception of not enough rear side-bite. We cranked 2 degrees of negative camber in the rear and the Fear felt much easier to drive.
Sand- The Glamis is a very scale looking buggy to what the masses run on the actual Glamis sand dunes every weekend. The stock rear tires on the Fear work well pretty much everywhere except for sand. In sand they just dig holes and don't give much forward propulsion. We installed Vaterra paddle tires and the Fear instantly became a pretty gnarly sand machine. If you play in the sand a lot, a Glamis Fear with paddles will put a huge smile on your mug.
General off-road- The Fear is loads of fun in general off-road bashing conditions. The suspension soaks up the nasty stuff, there is enough power on tap to make big gaps, and the Fear rarely breaks.
Tires: Very, very nice. The closed cell foam inserts were firm and worked well. The front ribs are molded out of a fairly soft rubber and grip pretty much everywhere. The rears offer excellent grip on dirt, grass, and pavement, yet they don't wear too quickly.
Power: Our Fear had more power than the Uno we tested a few months ago. We tracked that down to our Fear coming with a significantly better battery. To dive into what the power system of the Fear felt like- it had a snappy bottom end, not overwhelming, but solid for a brushless power system. The mid-range had plenty of solid power, and the top end pulled hard to a 36 mph top end. The stock power system won't "WOW" you if you are used to 6S Castle Monster power, but compared to similar vehicles it felt plenty healthy. If you are a noob, it will feel crazy fast. Overall, solid power, enough for an experienced hobbyist, and crazy power for a noob.
Radio: The included 2.4 GHz Spektrum DX2L has a nice feel and worked glitch free for us. Range seemed improved over previous Spektrum models and the ergonomics felt decent to a wide variety of hands. While I didn't like the brake portion of the trigger (too tight for me), we had other testers that thought it felt fine.
Broken Parts: As expected, our Bash Crew didn't take it easy on the Glamis Fear. Its brother the Uno is known as a tough machine, so right off the bat we treated the Fear like we stole it. We slammed various hard objects, hucked it from tall heights, and generally beat it hard. The Fear ended up breaking a bit unexpectedly on us. We were hitting a berm and jumping the chain link fence surrounding the track. On one attempt we came up slightly short, just catching the rear wheels on the fence. Upon landing the spur gear was missing a few teeth, and of course it died completely shortly thereafter.
Misc Notes:
Like all the Vaterra models the Fear comes with a sweet looking manual and packaging.
The Lipo in the Uno we reviewed was about 300 mah short of stated capacity, the Lipo that came with our Fear tested out at 3400 mah, about 400 mah over.
We measured runtime at 11 minutes on the Fear. Not short, but not impressively long either.
The safety flags included with the Fear have a metal rod in them and are quite stiff. Also, they don't come mounted, you have to mount them. While the stiff rods in the flags help keep the Fear from ending up on its lid (and sometimes help bounce it over on its wheels) we poked ourselves a few times with them by accident.
Speaking of installing the flags, you have to remove the roll cage to do it. Taking off the roll cage isn't nearly as bad as it looks, requiring just 2 body clips and 4 screws to get the job done.
The stock speedo doesn't always do what you ask it to do. For instance, sometimes it may take several stabs of the trigger to get reverse.
The etching and boots on the rear drive shafts look very trick.
Green is Vaterra's color and there are several green anodized parts on the Fear. Some testers thought it looked fine, while others would have liked to have seen red anodized parts on the Fear.
The shock bodies are threaded, but use collars for pre-load adjustment. Things that make ya go hummmmmm.
The more we drive the Fear (and Uno) the more we like the rear diff. The diff is super smooth, yet don't "diff out" nearly as much as a normal unit.
To get the cool scale look with a roll cage, the Fear uses a bottom mount battery tray. We aren't a big fan of any bottom mount tray. The battery tends to just slide around inside the Fear, and the latch used to secure the lid gradually gets harder to open over time.
Best Mod Under $5: Grab an extra spur gear, ours blew out earlier than expected.
Best Mod Over $5: The Fear is a solid package but a waterproof Hitec servo makes it handle even better.
---
Summary:
A = Outstanding/Best in Class, B = Above Average, C = Average, D = Below Average, F = Horrific
Time To Bash: B Everything comes in the box that you need to get going, including the AA batteries for the transmitter. The included wall charger works, but is on the slow side.
Workability: D There is a price to pay for those incredible scale looks, the Fear isn't that easy to work on.
Car Show Rating: A One sharp looking machine. Not only does it look scale authentic, it's a flashy looking vehicle. The Fear reminds us of a purpose show built show machine that you can actually buy off the shelf and drive.
Bash-A-Bility: B The Fear suffered some serious abuse before we blew a spur.
Fun Factor: A For a 2wd bash machine, the combo of good power and great handling make it a blast to drive.
Handling: A Like its brother the Uno, the Fear is a great handling 2wd buggy, arguably the best in its category.
Value: B Cut'n a check for over $400 clams isn't cheap, but you get a very cool package for your money.
Parts Availability: C You won't find a lot of Vaterra parts hanging from the hooks at most local hobby shops, but parts are readily available on-line.
BigSquid Rating: B Incredible handling, great scale looks, and solid power, make room for a Vaterra Glamis Fear in your rc garage, it's a great bash machine.