Review – Vaterra Glamis Uno 1/8th RTR Buggy
THE Vaterra Glamis Uno 1/8th RTR Buggy Review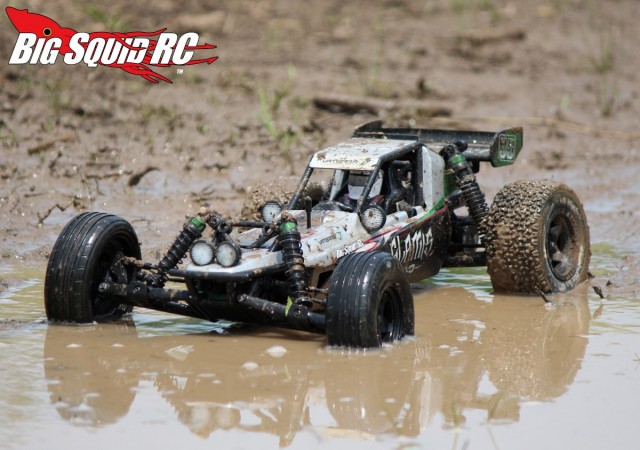 When the Vaterra line-up was first announced the Twin Hammers got all the headlines, and while it's a nice all around machine, one thing it does not do is get the pulse racing with pure speed. The Vaterra Glamis Uno was modeled after the insane buggies run every weekend at the Glamis sand dunes. The Glamis Uno has a brushless power-plant at its heart and plenty of suspension to soak up the nasty stuff at speed. Is the Glamis a capable all around bash machine? Is it a better basher than your average short course truck? Most importantly, does it deserve a spot in your rc garage? Let's dig right in and find out…
From: Vaterra RC
Direct Link: Glamis Uno Buggy
Unboxing Video: Glamis Off The Roof Unboxing
Review By: Cubby
Pics By: Cubby
Specs:
RTR or Kit: RTR
Age: 14+
2wd or 4wd: 2wd
Chassis: Aluminum
Shaft or Belt: N/A
Electric or Gas: Electric
Waterproof: Yes
Scale/Size: 1/8th
Length: 18.7″
Width: 11.41″
Wheelbase: 13.7″
Weight: 6.75 lbs
Motor: Dynamite 540 3300kv non-sensored brushless
Speed Controller: Dynamite Fuze 70A
Low Voltage Cut-off: Yes
Radio: Spektrum DX2L
Differential: Viscous ring/gear
Slipper Clutch: Yes
Driveshafts: Bones
Shocks: Plastic bodies and caps
Screws: Hex
Spur/Pinion Pitch: 48p
Bearings: Full set
Tires: Vaterra S Compound
Battery: Dynamite 2S 7.4v 3000 mah Lipo
Part Number: VTR04000
Top Speed (measured by BSRC): 31 mph on stock Lipo
Warranty on buggy: "… will be free from defects in materials and workmanship at the date of purchase."
Battery Warranty: 1 year
Street Price: $440
Primary Competition: ARRMA Raider, Associated SC10B
What's Needed To Complete: Nothing, everything you need comes in the box.
Build Quality: Admittedly, we unboxed our review Glamis by throwing it off a roof, but even after that everything looked to have been well assembled. Shocks were not leaking and were properly filled, the pinion/spur mesh was good, and there was no excessive flash on any of the plastic parts. The only thing we noticed was that one of the rear tires was extremely out of balance.
Test Drivers: Cubby, Brian, Tim, "Iron" Mike, and Sam "The Noob"
Test Venues: Dirtburners in St Louis Missouri, Cliff Cave Park in St Louis Missouri, Ferd B Lang park in Arnold Missouri, and a friendly neighborhood cul-de-sac
Set-up Notes: We ran the Vaterra Glamis bone stock, even with the included EC3 connector. We did not use the included wall charger, instead we relied on a Hyperion 720iNet3.
Turning: The Glamis exhibited a slight amount of over-steer on most surfaces. In other words, the front wheels stick when you enter a corner while the rear end rotates around. Because of this, the Glamis is not the easiest car to drive for a noob. However, because of the slight over-steer, the Glamis is the best turning 2wd bash machine we've ever tested. If you are past the learning stage and can actually push an rc car hard, you appreciate that the front wheels on the Glamis stick like they are velcro when entering a corner. The rear end is loose compared to the front, but in a good way. The rear has enough bite to stick in high speed corners, but is loose enough to gently rotate around in tight 180's. To make the cornering of the Glamis even better, the buggy has enough power to steer with the rear end on most any surface. On top of all of that, the stock tires are of a soft enough compound to get decent mechanical grip, making for amazingly high corner speeds for a basher (or even a race machine). If you are a big fan of under-steer, you won't like how the Glamis corners, but for everyone else it is amazing in the turns. If you hate how a typical 2wd corners, check out a Glamis, it simply rails in everything from tight 180's to 30 mph sweepers.
Jumping: With short course trucks being all the rage, jumping with the Glamis made us realize just how poorly SCT's jump. Those huge bodies on SCT's sure look cool, but jumping one is like flying a half breed brick/kite, jumping the Glamis buggy was much easier. After leaving terra firma the Glamis knives through the air without all the drag of a SCT, and while airborn a simple tap of the brake or pinning of the gas yields instant mid-flight adjustment. The Glamis was exceptionally stable when slamming into blown out jump faces, and because of its low center of gravity and relatively low rear side-bite, you could land extremely sideways without rolling over. Pounding wood ramps also showed the aerial prowess of the Glamis- straight take offs, nice control in the air, and enough tire/suspension to soak up big hucks to pavement.
Bumps/Whoops: Hats off to the Vaterra guys on the stock suspension set-up. The stock oil, pistons, springs and geometry was spot on for soaking up the nasties. The general size of the tires and chassis were also big factors in taming bumps/holes/whoops. A larger tired 2wd MT can blast through the rough stuff better than the Glamis, but compared to vehicles of its size the Glamis handles the rough stuff top notch. Heading into a rough section was just a point and shoot affair, the rear end loves to just follow the front, and typically the front is glued straight forward. You had to hit the truly insane stuff to get the Vaterra to huck-a-buck.
On-Road: The Glamis should suck on-road, but it doesn't. The Glamis has big off road tires, loads of suspension travel, etc, yet it actually drives quite well on pavement. The Glamis doesn't traction roll, regardless of speed, unless you catch a rut or hole. As a plus, all that wonderful steering the Glamis has makes it a blast to drive on pavement, and actually quite fast. Any kind of holes or imperfections are soaked up without notice by the long suspension of the Glamis, making it just plain easy to drive fast. No, it's not as fast as a dedicated on-roader, but it's not that far off. Btw, the stock tires get good traction on pavement and don't get burnt off on the first run. Even more fun, the tires make that cool screeching noise just like a full scaler on pavement.
Grass: The Glamis roughly has the form factor of a SCT- the same wheelbase, width and tire size, thus allowing it to get around just fine in trimmed grass. Also helping it are it's grippy rear tires and enough weight to force the buggy down to get traction. If a large portion of your driving is on grass, the Glamis won't get around as well as a monster truck, but it does get around quite well.
Off-Road: Track- on the St Louis Dirtburners prepped off-road 8th scale track the Glamis was predictable and easy to drive. It had more than enough power to make all the jumps, and more than enough top end for the tracks long main straight. On a prepped track the Glamis was just plain easy to drive, inspiring confidence.
Sand- the Glamis is named after a famous area of sand dunes, but to get maximum fun and performance in the sand you really need to mount up some optional paddle tires. Once paddles are on, the Glamis is great fun to drive in the sand.
Mud- the stock rear tires work great on most surfaces, but just like in the sand, they hold the buggy back in the dark soup. Go to paddles when you get tired of getting stuck.
General off-road- I hate saying good things about pretty much anything, it's just not in my nature. However, for general off-road use, the Glamis is the best overall handling 2wd we've ever driven. That is a big statement no doubt, but it is deserved. The Glamis just handles so well in such a wide variety of conditions, there just isn't another 2wd bash machine (or racer) that is as easy to drive or controllable as the Glamis.
Tires: Very nice. The stock rears don't work well in sand or mud, but everyplace else they offer good traction. The front ribs work well everywhere. The tires are of a relatively soft compound and have exceptionally nice inserts. One last note here- while the rears have an unconventional tread pattern, they give good traction and actually last. Seriously, the stock tires are exceptionally well done.
Power: The Glamis is no small buggy but comes with a 540 sized power system. We expected this to be an issue, but it was not. The stock power system gave very good power, even on 2S. The highest temp we saw on the motor was 135 F (ambient was 80 F) after driving in some grass. 135 is warm, but not in the danger zone. As far as raw power goes, the brushless system in the Glamis felt perhaps a bit soft right off the bottom, this may have been a software thing or perhaps due to the stock battery, but it came alive with a snappy and powerful mid-range, then had long wind up on top. Dropping a couple teeth would help improve the low-end, drop temps, and add some runtime, but the stock gearing yields legit brushless power than even a seasoned hobbyist will have a hard time using every bit of.
Radio: The included Spektrum DX2L has a good feel and worked well for us. The plastic handle with rubber insert had a nice feel as did the foam wrapped steering wheel. Wheel/trigger/grip ergonomics felt proper and the weight distribution felt dead on. We found the range to be better than previous Spektrum radios. Our only complaint is the trigger. For small fingered guys it worked well, but our bigger guys felt the trigger was too tight.
Also of note, the DX2L comes with a low/medium/high setting on the throttle. This allows you to hand your car over to a noob and easily knock down the speed of the buggy. This feature worked as advertised and might come in handy if you are in the habit of handing your car over to strangers or kids.
Broken Parts: If you saw our unboxing video then you already knew we weren't going to be kind to the Glamis. It's a buggy aimed right at the bash crowd, therefore it had better be up to a good beating. During our "normal" testing we pretty much drove it like we stole it and didn't break anything. This included letting it sit in roof deep water for 10 minutes to check its waterproofing, using beveled curbs for full speed ramps, and slamming into pipes and railroad ties just for fun.
Since the Glamis survived the "normal" portion of testing it was time to up the ante. The first extreme test was hucking it off the roof of a 2 story house. We did that 3 times landing perfectly to grass with no issues. On the fourth jump from the second story we landed a bit sideways and stripped out a rear turnbuckle. No big deal, we just shoved the turnbuckle back into the rod end and went back to the beating. Next we starting hitting a 4 foot tall vert ramp and landing to pavement. On the first jump we landed solidly on the rear end messing up the pinion/spur mesh and took out the spur gear. Once we had the spur replaced we then started driving straight into a brick wall. We hit it at 1/4 throttle and had no issues. Then we hit it 1/2, then 3/4, again with no problems. The dirty deed just had to be done so we slammed the brick wall pinned WFO (wide open). Seeing as how the Glamis has good power under the hood, this was right around 30 mph. The Glamis was able to drive away, but it did suffer a couple of issues. The stock servo horn was stripped out, the top of one of the front shocks popped off from the tower (but was easily popped back on), and we bent the aluminum front lower mounting plate, allowing the bottom of the steering rack to slide out. After all that ridiculous beating we didn't really "break" any parts, we stripped a few, but nothing actually broke in half.
Misc Notes:
We like the green anodized parts on the Glamis, bling is always a good thing.
The shock bodies are threaded, but clip-on collars are used to adjust pre-load, which is quite strange. If the buggy has threaded shock bodies they should come with nuts to adjust pre-load not clips. Also, at this price point, the caps and bodies should be made from aluminum.
We measured run-time 11 minutes on our half pavement/half grass bash track. 11 minutes isn't bad, but not stellar either.
We were not a fan of the stock battery box, and it got progressively harder to open over time. The stock box limits the size and types of batteries you can use. It works, but is not optimal.
Like other Vaterra models, it sometimes took multiple stabs on the trigger to get forward or reverse to kick in.
We noticed a tiny bit of cogging with the stock power system. We only drove the Glamis with the stock battery, so a better Lipo might very well make that go away.
The stock Lipo is stated to be 3000 mah, the most we measured was just over 2700.
The Glamis came with Vaterra branded wrenches and an extremely nice owners manual. Kudos.
Even with the radio max'ed out our Glamis always had more throw and turned tighter to the right than to the left.
The double sided tape that holds the on/off switch to the buggy gave up the ghost early leaving the switch flopping around outside the buggy.
Speaking of coming off, the front tires liked to work their way off, it didn't look like they were glued from the factory.
We really liked the action of the rear diff on the Glamis. Vaterra proclaims it as something special, and after driving it, we would have to agree. It took plenty of abuse and always seemed to give the right amount of diff action, supplying power to both rear tires just when you needed it. We didn't try the Glamis with a different style of diff, but the stock unit just might be one of the secrets that makes the Glamis turn so well.
The stock rear bones and rubber boots looked trick and worked well.
Best Mod Under $5: Seeing as how we stripped out a rod end I'm going to recommend you pick up some upgrade units at your LHS.
Best Mod Over $5: The Glamis is pretty solid with no huge glaring issues, but for the over $5 mod I'm going to recommend you upgrade the servo to a faster and tougher unit. Look at one of the blue Hitec's to retain waterproofing. If you are looking to increase run-time, spend your cash on a higher capacity Lipo.
Summary:
A = Outstanding/Best in Class, B = Above Average, C = Average, D = Below Average, F = Horrific
Time To Bash: B Absolutely everything you need to get going comes in the box, but a faster charger and Lipo capable of a 2C charge rate could make it faster to hit the track.
Workability: D While the scale looks are a great thing on the Glamis, they do make the buggy very hard to work on. Even simple things like checking the pinon/spur mesh are way harder than on a typical hobby grade vehicle.
Car Show Rating: B The Glamis doesn't look perfectly scale to a true Glamis dune buggy, but it does have full scale styling cues that make it a good looking machine. The driver figure, cool wheels, faux front lights, and select anodized parts make it look good.
Bash-A-Bility: B Detailed above, we beat the crap out of the Glamis and it stood up quite well. For normal everyday bashing (if there is such a thing), it's quite reliable.
Fun Factor: A Good power combined with a top notch handling make the Glamis a total blast to drive.
Handling: A The Glamis is the best handling vehicle in its class, and arguably the best handling 2wd bash machine ever produced.
Value: B A $440 price point is not cheap, however you get one great handling buggy (with good power) for that price.
Parts Availability: C You won't find Vaterra parts in every hobby shop, however they are readily available on-line.
BigSquid Rating: B- If you are a true basher, a person that drives everywhere from the cul-de-sac in front of your house, to the mud pit down the street, to your local track, the Glamis is the star of the Vaterra line-up. The Glamis drives exceptionally well on nearly any surface, it packs a lot of power, and it takes a good beating without breaking many parts. Its overall rating may have been brought down by its scores in workability and parts availability, but the Glamis is top notch bash machine, well worth a trip to your LHS to pick one up.