THE Vaterra Halix 4wd Monster Truck Review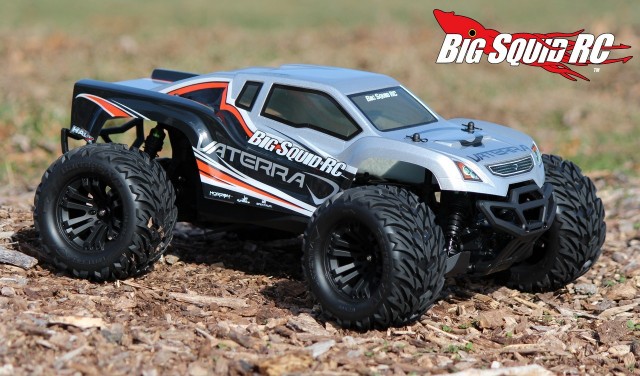 Vaterra has made quite a name for itself in a short amount of time. The relatively new name from Horizon has been putting out solid performing vehicles that offer stellar scale appearance. Today we'll be giving you the scoop on the Vaterra Halix (officially Hälix for those looking for the official name). The Halix has already made waves being one of the first two vehicles to roll out from under the Horizon banner sporting AVC/Active Vehicle Control, a system that uses electronics to help make the truck easier to drive. Is the Halix in the same league as a Traxxas Stampede 4×4? Is the AVC a help or a hindrance? Hit that "Read More" button to find out…
From: Vaterra
Direct Link: Halix RTR Monster Truck
Unboxing Pictures: BSRC Halix Unboxing
Review By: Cubby
Pics By: Tim Mohr
Specs:
RTR or Kit: RTR
Age: 14+
2wd or 4wd: 4wd
Shaft or Belt: Aluminum shaft
Electric or Gas: Electric
Waterproof: Yes
Scale: 1/10th
Length: 18.5″
Width: 13.4″
Wheelbase: 11.4″
Motor: Dynamite non-sensored 540 brushless 3300kv (4 pole)
Speed Controller: Dynamite
Low Voltage Cut-off: Yes
Radio: Spektrum DX2E
Electronic Stability Control: Yes, Spektrum AVC
Differential: Torque vectoring gear diffs front & rear
Slipper Clutch: Yes
Driveshafts: Telescoping plastic
Shocks: Threaded plastic bodies, oil filled, metal caps
Servo Saver: In steering rack
Screws: Hex
Spur/Pinion Pitch: 48 pitch
Bearings: Yes, complete set
Tires: Vaterra Barrage X/T
Part Number: VTR03003
Top Speed (measured by BSRC on 2S Lipo): 31 mph (We will follow up with a 3S speed soon)
Runtime: 8 minutes on 2S 5000 Lipo
Warranty: "… will be free from defects in materials and workmanship at the date of purchase."
Street Price: $429
Primary Competition: Traxxas Stampede 4×4, Helion Invictus
What's Needed To Complete: The Halix comes with batteries for the transmitter, but you need to supply a battery for the truck and charger.
Build Quality: We only found one issue with the assembly of the Halix, the pinion/spur mesh was a bit too tight (more on this later). Otherwise, the shocks were well built, we didn't find any binding or excessive flash, and we didn't find any loose or stripped screws.
Test Drivers: Tim, Iron Mike, Sam "The Noob", and your oh-so-lovable Cub Reporter
Test Venues: City Park in Lake St Louis Missouri, Belleville Illinois City Park, CostCo parking lot, and St Louis Dirtburners 8th scale off-road track.
Set-up Notes: We ran the Hälix bone stock with the exception of adding a Traxxas battery connector. For power we used a Dynamite Reaction 2S 5000 30C and a Dynamite Speedpack 3S 5200 Lipo. Charging duties were handled by a Hitec X1 Touch.
Turning: Without the AVC stability control turned on the Halix was a great turner for a 4wd MT. It had plenty of steering going into corners and the tires gave it good mechanical grip to carry a lot of speed through the arch. On soft/slick surfaces it was easy to get the Halix to pivot around and turn on a dime. On high grip it acted more like a real 4wd MT, a bit more difficult to get rotated, and it would traction roll when asked to turn too quickly at speed. All in all, it turns better than its direct competition. We have also heard that Vaterra has some roll bars and new springs coming soon that will help you tune your turning if needed.
With the AVC turned on it was a slightly different beast. The AVC absolutely made it easier to stand on the gas coming out of slick corners, but that came at the price of a slightly reduced turning radius. The Halix could be made to pivot for tight corners on slick surfaces with the AVC on, but it took some stabbing at the trigger to do so. Our uber pro driver guy left the AVC off all the time, he could simply corner better without it, but Sam our noobie cornered better with the AVC on all the time. The AVC system will automatically adjust steering and throttle control to help keep your vehicle going in the direction it thinks you need to be going it. It's a pretty cool thing to feel, and see the difference when it's on and off.
Jumping: The Halix has a lot of power, no center diff, and a lot of rotating mass, that means a machine that makes easy work of back and front flips. The stock suspension settings felt good right out of the box, helping the Halix launch relatively flat from most jump faces, and it helped soak up the landings in a proper manner. In the air you could keep the Halix pinned and go for a backflip, jab the brakes at the top of the jump face for a front flip, or leave the throttle steady to go for a flat trajectory. Trucks with center diffs are easier to jump flat with, but they can't pull off tricks as easily as the Halix can.
Bumps/Whoops: The Vaterra Halix is an animal in the whoops. It has a lot of suspension travel, both downtravel and uptravel, and its relatively large MT tires allow it to absolutely haul through gnarly sections. Long suspension travel is one thing, but having it properly damped is another, and thankfully the Halix was well set-up out of the box. It was amazing how fast you could pound through rough sections, then you started turning up the AVC and could pound them even faster. The Halix is one of the best vehicles that money can buy in the rough.
On-Road: No, the Halix was never intended to be a road machine, but we live in the real world, a place where bashers drive anywhere and everywhere, including pavement. The Halix did "O.K" on pavement, but it was clearly designed for off-road. The Halix has fairly soft suspension settings that results in a lot of lean during corners. Combine the all the chassis lean with a relatively high center of gravity and the Halix is prone to traction rolling in high bite conditions. If all you do is on-road we suggest you look elsewhere, or go grab a set of the roll bars and harder springs.
Grass: The Halix was a beast in grass. 4wd, big power and good ground clearance let the Halix flat out fly through some fairly tall grass. Also of note, the stock tires did well on the green stuff. If you do a lot of grass driving the Halix is a good choice.
Tires: We were big fans of the stock tires. They were made of reasonably soft rubber, had a decent tread pattern for traction, and they were long wearing. Their overall grip suffered a bit at the extremes, not super good on high bite or in the super loamy sections, but everywhere in between they provided excellent traction.
Power: The Halix has good power. On 2S it definitely has solid yank off the bottom, a strong midrange, and the top end keeps on pulling. On 3S that all changes, its an animal capable of pulling wheelies at pretty much any speed. You won't be left wanting for more rip from the stock powerplant. We did notice a couple of downsides from the stock power system though. The Halix seemed geared a bit tall as we experienced slight cogging from a dead stop and the motor temps were a bit higher than we expected.
Radio: We experienced good range and absolutely no glitching with the included Spektrum radio system. Range was longer than expected, so much so that one of our testers commented he had never driven a Spektrum with such good range. For ergonomics, we really, really like the grip on the DX2E. The grip is rubber and feels about as good as anything on the market, albeit it might feel a bit "thick" to some users. The grip/wheel/trigger orientation felt good, but we would have liked to have seen foam on the wheel and a slightly heavier spring on the trigger.
Broken Parts: Ok, to be fair here we never got a chance to drive the Halix in ambient temperatures above 35 degrees Fahrenheit, with most of our testing taking place below 30. If you are a hardcore basher I don't have to tell you that cold temps are notorious for breaking parts. The Halix made it through the normal portion of our testing without any issues. By normal I mean just normal bashing on 2S. When we stepped up the bashing to 3S we busted a front driveshaft when tagging the gas from forward to backwards trying to self-marshal the truck when it was upside down. Once the front driveshaft was busted it was time to go huge and on the Halix's first truly big jump we broke a rear camber rod and a driveshaft on the rear (ambient was 21 degrees when this happened). We have had other rc cars survive in really cold weather without breakage, but those were not the norm. To boil it down, we would really like to see how the Halix holds up in temps above 60 degrees, but it might be a few weeks (or months) before we get those types of temps in our area.
Misc Notes:
Out of the box our Halix sounded like it had really tight pinion/spur mesh. No big deal we thought, we would just pop off the spur cover and loosen up the mesh a bit. We were surprised to see the Halix had an old school motor mount, meaning it had a hole for a 19 tooth pinion, another hole for a 20, another for a 21, etc. That type of mount doesn't allow minute adjustments, so we ended up running with the slightly tight/noisy mesh.
Speaking of the spur, we didn't have any issues with ours, but we would rather have seen something a bit beefier than 48 pitch. The Halix has a lot of power and rotating mass, both of which are pure hell on spur gears.
The Halix comes with small body clips. Please do yourself a favor and "accidentally" lose them the first time you take the body off. Replacement immediately with AE, Losi or Traxxas (or even better, Pro-Line thumbwashers) to make your life a whole lot better.
We were big fans of the stock battery tray. It has plenty of room inside for a variety of pack sizes, including the height for a decent capacity 3S pack. Kudos on this one Vaterra.
The Halix comes with solid camber/toe rods. On one hand this helps save a few bucks and leaves room for an uber Halix model coming down the pike to come with them. On the other hand camber and toe are basic adjustments that any truck at this price point should have.
As you read above, we never got the chance to drive the Halix in warm temps, but we measured a high motor temp of 110F on 2S. If the Halix has a motor temp of 110 at 25 degrees ambient, it is going to get pretty hot when the ambient is 80 or 90 and running on 3S.
We really liked the fact that you could turn off the AVC system, or turn it all the way up, via the steering rate knob on the transmitter. We wish all adjustments were this easy.
So… what is the final consensus on the AVC system? That depended on who you are. The Active Vehicle Control was easily noticeable, and helped make the truck easier to drive on slick surfaces. On high traction surfaces nearly all our testers (except Sam The Noob) turned it off. The AVC comes in handy when it is slick making the truck much easier to drive hard. And thanks to AVC knob on the transmitter, it's there when you need it and easily turned off when ya don't. We like the AVC system a lot and wish we had it on all our vehicles. No, it won't turn a bad driver into a great one, and it won't cut 2 seconds off your lap times, but it does do what it advertises, it makes the truck more fun to drive in low traction conditions.
Best Mod Under $5: Our vote goes for a 18 tooth pinion. The stocker is a 20, going to an 18 will give longer runtimes, reduce motor heat, and help eliminate the slight cogging it has.
Best Mod Over $5: A good 3S Lipo. The Halix goes from decent rip to stupid power with a good 3S pack.
---
Summary:
A = Outstanding/Best in Class, B = Above Average, C = Average, D = Below Average, F = Horrific
Time To Bash: B Just bust it out of the box, pop in the battery, set the trims, and you are ready to jam.
Workability: B The Halix uses a sensible layout that makes wrenching quite easy.
Car Show Rating: B The BigSquidRC Bash Crew really liked the look of the Halix. The body looks much like the latest BigFoot race truck, plus the murdered out wheels and tires were sweet looking.
Bash-A-Bility: B We broke two driveshafts and a tie rod, but it must be noted that temps during our test window were quite low.
Fun Factor: A Big power, big tires, and the ability to perfectly dial in the Active Vehicle Control make the Halix a blast to drive.
Handling: A The Halix is arguably the best handling truck in its category. For a 4wd MT it turns very well, jumps predictably, and blows through the rough stuff like a champ.
Value: B The Halix is more expensive than either of its two direct competitors, but for a few more bucks you get the latest in stability control tech, loads of power, and a great handling truck.
Parts Availability: C Traxxas is "King of the Hill" for parts availability, but Vaterra parts are relatively easy to find on-line.
BigSquid Rating: B The Vaterra Halix is arguably the best 10th scale 4wd monster truck you can buy. While only a full on shootout can prove otherwise, we do know the Halix has top notch power, handling, and the AVC stability control system. The Halix has become a favorite all around bash machine of ours and we highly recommend it to you.