THE Vaterra Swift Justice 2012 CHP Chevrolet Camaro ZL1 from Horizon Hobby Review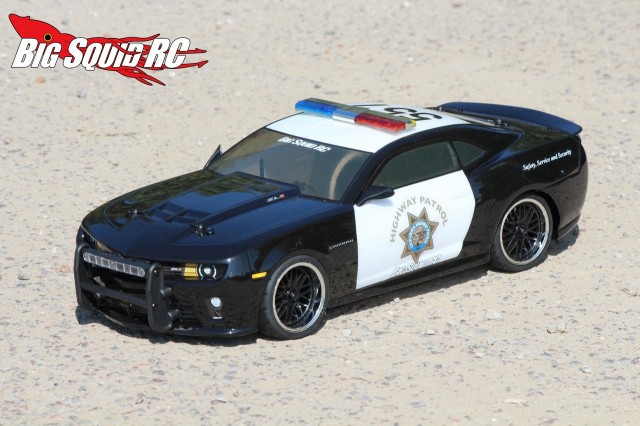 While Vaterra might be relatively new to the marketplace, they are certainly making a splash with their extremely scale looking rc cars. Their latest on-road machine, the 2012 CHP Camaro ZL1 is heavy on scale detailing at a moderate price point. Does the chassis drive well? Is the included brushed motor fast enough to have fun? Can you jump it off a roof and have it survive? Those questions and more will be answered by the end of our review. Click the famous "Read More" button to get the party started…
From: Vaterra
Direct Link: 2012 CHP Camaro RTR
Unboxing Pictures: BSRC Unboxing Pics
Review By: Cubby
Pics By: Tim Mohr
Specs:
RTR or Kit: RTR
Age: 14+
2wd or 4wd: 4wd
Shaft or Belt: Shaft
Electric or Gas: Electric
Waterproof: Yes
Scale: 1:10th
Length: 14.85″
Width: 7.76″
Wheelbase: 10.25″
Motor: 15 turn brushed 540
Speed Controller: Waterproof Dynamite Tazer 12 turn limit
Low Voltage Cut-off: Yes
Radio: Spektrum DX2E
Differential: Two gear diffs
Internal Gear Ratio: 3.5:1
Shocks: Plastic bodies
Servo Saver: Direct on servo
Screws: Hex
Spur/Pinion Pitch: 48P
Bearings: Yes
Tires: Vaterra street tread
Battery: Dynamite 6 cell NiMH 1800 mAh
Part Number: VTR03012
Top Speed (measured by BSRC w/ stock NiMH): 18 mph
Runtime: 16 minutes w/ stock battery
Warranty: "… will be free from defects in materials and workmanship at the date of purchase."
Street Price: $299
Primary Competition: 10th scale RTR electric on-road cars like the Associated APEX touring and Thunder Tiger TS4e.
What's Needed To Complete: Absolutely zero, everything including the AA batteries for the transmitter come in the box.
Build Quality: We found no glaring issues with the Vaterra Camaro as it came out of the box. The pinion/spur mesh was good, nothing was binding, and we didn't find a bunch of flash on the plastic parts.
Test Drivers: Cubby, Tim Mohr, Iron Mike, and Sam "The Noob"
Test Venues: Dirtburners 8th scale off-road track in St Louis Missouri (no, I'm not kidding, LOL), a CostCo parking lot, various parking lots and ball fields in Arnold Missouri City Park
Set-up Notes: We ran the Vaterra bone stock, including the EC3 connector. We did not use the included wall charger instead opting for a Hyperion 720iNet3 to handle the charging duties.
Turning: Overall, not bad on a typical parking lot. The sticky tires lend to good traction in the corners, as do the soft inserts and suspension settings. There is some push going into corners on-power, but once you lift to neutral throttle the Vaterra turns right in. Sweepers are managed predictably, and it can pivot right on around when asked to for a hairpin.
Jumping: We are currently reviewing a bunch of different cars/trucks here at BigSquidRC. Normally, on-road cars don't jump worth a darn, and the Vaterra is no exception. It can be made to jump, but it is generally a kite while in the air and lands like a brick. This makes perfect sense because it was never designed to huck triples. However, it did actually jump more predictably than a dedicated off-roader that we are currently reviewing (you'll have to wait a while for that review). If you like to jump, don't buy an on-road car like the Vaterra Camaro, but if you love on-road cars and feel like catching air sometimes, the Vaterra might be the best jumping on-roader we've driven.
Bumps/Whoops: We slammed some crazy rough areas with the Camaro. No, it doesn't handle well when tagging a 4″ deep pothole at full speed, but it sure was fun. On normal small parking lot ripples it did an admirable job.
On-Road: Pavement is the Vaterra's forte and it drove well there. Getting around corners was easily accomplished without even a hint of traction rolling. Blasting across a bumpy parking lot was also handled in stride for a touring car. It might not win an IFMAR championship, but it is set up quite well for parking lot and cul-de-sac use.
Grass: Ok ya, we had to drive it in the grass, mainly from getting too crazy on-road and skidding off into the green stuff. If you plan on doing a bunch of grass driving the Vaterra Camaro is not for you, look at the Glamis buggies or the upcoming Halix. The Camaro is a low slung on-road car, it doesn't come with enough ground clearance or the right type of tires to get around in grass.
Tires: We were pleasantly surprised with the stock tires. The compound was quite soft giving good mechanical grip, and they looked very scale appropriate. The Vaterra logo molded into each tire was a neat detail. Speaking of details, the Vaterra CHP Camaro uses different front and rear tires, just like the full size version. The fronts are narrow while the rears are wider, providing that extra touch of scale detailing.
Power: One place that the Vaterra CHP does not copy its full size counterpart is power. The stock power system is extremely soft through the entire powerband and tops out early. We found the main culprit was not the 15 turn brushed motor, it was the included 1800 mAh NiMH battery. When we popped in a good 2S Lipo the Camaro really came to life. Stock, you can pretty much plan on getting smoked by everyone, the Vaterra Camaro is at the bottom end of top speeds that you will find on current RTRs. That is not to say it isn't fun, or won't feel fast in the hands of a first time noob. We had loads of fun with the stock power plant, and noobs crashed and smashed into hard objects just like they would while adjusting to any real hobby grade car.
Radio: We had decent range and didn't experience any issues with the supplied Spektrum DX2E. The Spektrum features a very comfy grip, well above average for an RTR radio. The trigger/wheel/grip relationship was quite natural, our only turn-offs were the plastic wheel and too light of a spring on the trigger.
Broken Parts: We normally drive review cars like we stole them, however, when the review vehilce turns out to look like a cop car we take the beating to another level. We were downright sadistic with the Vaterra from the first time it touched the ground, and I must say it was just plain fun to try and destroy a police car. On top of that, the Vaterra police car instantly becomes the car everyone else tries to smash when out bashing in the parking lot. A normal day of "tag" or "demo derby" turns into 10 cars against 1 when one of the cars has police logos on it. Our Vaterra CHP Camaro suffered a lot of abuse, not only from the person driving it, but also from every other car in the parking lot.
Before testing we thought that pretty body was going to be toast, but that was not the case. The mirrors are mounted in such a way that they may get spun around, but we never ripped ours off. The top light bar got scratched up from being upside down on pavement, but it didn't come loose or stop working. We did smash in the front grill guard/bumper, but it was easy to pull back out and worked awesome for making other cars flip. We did manage to tear off one of the rear exhaust tips, but otherwise the body held up much better than we ever expected.
As far as the rest of the car goes, it proved itself time and time again to be bash worthy. We ended up tearing off one of the front wheels after getting shoved into a curb full speed by an 8th scale buggy, but left to its own devices, we didn't break anything on the Vaterra CHP Camaro. We slammed hard objects full speed, hucked it like an escaped mental patient off of wood ramps, and we didn't break anything. To boil it down, we were very impressed with how tough the Vaterra Camaro was.
Misc Notes:
We did a lot of jumping with the Vaterra, more than we've ever done with an on-road car. We did this for two reasons. 1. The Vaterra didn't complain about it (read- did not break), and 2. it was just so darn fun hucking a police car. Jumping a police car brings back memories of the Smokey and the Bandit movies and the Dukes of Hazard, great times I tell ya.
I can't emphasize enough the details that went into the Vaterra CHP Camaro. From the box, to the manual, to nearly every square inch of the car, somebody went above and beyond to put out not only an incredible replica of the full scale car, but to also make sure the entire experience of owning it was better than its competition.
The lights were smartly done and looked good in anything except direct sunlight.
The Vaterra is a real head turner, other hobbyists simply marveled when they saw it. However, we had a tester who thought the Camaro was so "life like" that it actually reminded him of a big box toy grade car. I can assure you any thoughts he had of toy grade went away the moment he pulled the trigger and tagged the first curb full speed. The Camaro may have over-the-top scale looks, but it's all hobby grade under the hood.
Which brings me to the V100-S platform. The CHP Camaro was the first vehicle we've tested on this platform and we were skeptical, it looks real plain. Plain is good if it takes a beating, and we had a very hard time breaking it. Now we are big fans of the V100-S platform, at least on stock brushed power.
We had a blast driving the Vaterra on a hardpacked baseball infield. No, it isn't supposed to be a dirt machine, but it was a lot of fun and didn't cause any issues with the car.
We didn't notice any of the stock electronics, which is a good thing. If we didn't notice them, they were working good enough to use and not have to switch out.
Best Mod Under $5: If your gear isn't set up for the stock EC3 connectors we would suggest you use 5 bucks to install your favorite connectors.
Best Mod Over $5: A better battery. The stocker gives decent runtime, but it lacks punch and top speed. A 2S Lipo instantly makes the Vaterra much faster.
---
Summary:
A = Outstanding/Best in Class, B = Above Average, C = Average, D = Below Average, F = Horrific
Time To Bash: B Skip the included wall charger and use a better unit if you want to hit the streets super fast, otherwise it was fast and easy to get going with the Vaterra.
Workability: B The CHP Camaro uses a pretty standard touring car layout that is easy to spin wrenches on.
Car Show Rating: A Depending on taste, the Vaterra CHP Camaro just might be the best looking, most detailed hobby grade on-road car you can buy.
Bash-A-Bility: A We treated the Vaterra CHP Camaro extra poorly and it proved itself a tough customer.
Fun Factor: B It might not be fast, but the police body instantly makes it a lot of fun. We are not fans of police cars in general, but it is loads of fun bashing a police car like you stole it. Envision the end of the movie "Super Bad" if you need to get the drift. Bashing a police car is just more fun than a normal body. If the Vaterra was a bit faster the fun factor would have been A+.
Handling: C The Vaterra CHP Camaro handles fine, but doesn't really excel in any one area.
Value: B Uber scale looks on a rock solid platform for under $300, that is a very good value in our eyes.
Parts Availability: C Most hobby shops don't have a bunch of Vaterra parts on the pegs, but parts are readily available on-line.
BigSquidRC Rating: B We are big fans of the Vaterra CHP Camaro, it has concours looks, yet you can beat it like a full blown bash machine. We highly recommend the Vaterra CHP Camaro for your rc garage.
Check out some video we shot while testing the Vaterra Camaro.