Review – Vaterra Twin Hammers 1.9 Rock Racer
THE Vaterra Twin Hammers 1.9 Rock Racer Review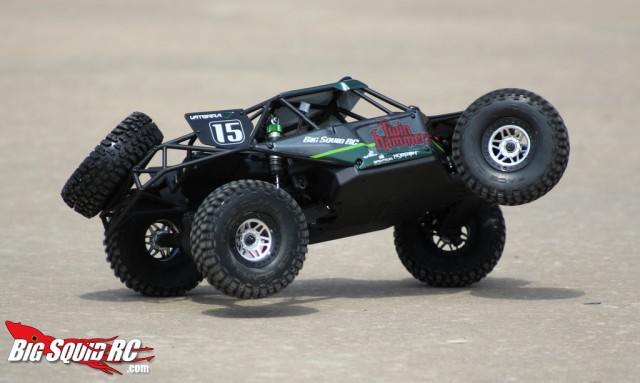 I don't think it would be a stretch to say that the Vaterra Twin Hammers Rock Racer is the biggest vehicle release of 2013. Its scale looks got a lot of peoples attention, while its unique chassis layout got others to look its way. So what exactly is the Twin Hammers? It's labeled as a "1.9 Rock Racer", but with its cantilever suspension and two speed transmission it just might be a versatile bash machine. Lets cut to the chase and find out what the Twin Hammers is really all about…
From: Vaterra RC
Direct Link: Twin Hammers Rock Racer
Unboxing Pictures: Unboxing the Twin Hammers
Review By: Cubby
Pics By: Cubby
Specs:
RTR or Kit: RTR
Age: 14+
2wd or 4wd: 4wd
Shaft or Belt: Shaft
Electric or Gas: Electric
Waterproof: Yes
Scale/Size: 10th scale/1.9 crawler
Speeds: Shift on the fly 2 speed
Length: 18 in.
Width: 5.9 in.
Wheelbase: 11.6 in.
Motor: Dynamite 15 Turn Brushed
Speed Controller: Dynamite Tazer 12T
Low Voltage Cut-off: Yes
Radio: Spektrum DX3E 2.4 GHz
Differential: Gear diff front, locked center and rear
Slipper Clutch: Yes
Driveshafts: CVD's
Gear Ratio: Low: 4.05:1 High: 2.27:1
Shocks: Metal bodies and caps, oil-filled
Servo Saver: None
Screws: Hex
Spur/Pinion Pitch: 48p
Bearings: Full set
Tires: Vaterra "Race Claws" with foam inserts
Battery: Dynamite 2S 7.4v 2000 mah Lipo
Part Number: VTR03000
Warranty on truck: "… will be free from defects in materials and workmanship at the date of purchase."
Battery Warranty: 1 year
Street Price: $400
Primary Competition: The Axial Wraith and Axial Exo seem to come closest, there aren't many hybrid 1.9 rock racers on the market for a direct comparison
What's Needed To Complete: Nothing, everything you need comes in the box.
Build Quality: Giving the Twin Hammers a quick once over yielded two discoveries related to the assembly quality. First off, one of the front shocks was lacking in oil, and second, one of the rear tires was crooked and extremely out of balance. Otherwise, everything else looked well assembled and ready to jam.
Test Drivers: Cubby, Brian, Tim, "Iron" Mike, Jason and Sam "The Noob"
Test Venues: Dirtburners in St Louis Missouri (a muddy off-road track at the time), Cliff Cave Park in St Louis Missouri, St Joe State Park in Park Hills Missouri, a high school running track, a skate park, a backyard and a cul-de-sac
Set-up Notes: Our Twin Hammers was tested bone stock with the exception of ditching the stock EC3 connectors in favor of Traxxas. Also, we didn't use the included wall charger, we used a Hyperion 720iNet3 instead.
Turning: At speed the Twin Hammers has a lot of steering, so much that it easily traction rolls on pavement, grass, and on higher bite dirt surfaces. You learn quickly to take it easy on the wheel to keep it from flipping. Those high bite/large sidewall tires combined with a prodigious amount of chassis roll yields a very tippy machine at speed. At lower speeds, like while trail driving on low bite surfaces in low gear, the steering is just about right. When working your way up a tricky trail you might want to turn a few inches to miss a rock or root and the Twin Hammers easily goes where you point it. If you are using the Twin Hammers in its element it steers very well, if you try turning at high speeds or on high bite you are just asking for trouble. If you get into some serious crawling action the stock servo just isn't up to the task. It's too weak and has too much play it in for serious crawling.
Jumping: We tried a bunch of different jumps with the Twin Hammers and it always jumped much better than we ever expected, and worlds better than a full blown crawler. We hit small wood ramps, jumps at the track, jumps made from sand, a 2 foot tall wood stunt ramp, and various ramps at the skate park, all the while the Twin Hammers was a pleasure to jump. It would typically maintain a slightly "front end high" attitude while in the air, while stabbing the brakes would instantly flatten things out. Maybe its low top speed kept it from getting into trouble in the air, but the Twin Hammers was a much better jumper than anticipated.
Landings were a bit on the brutal side. The suspension doesn't allow enough "up travel" for the chassis to bottom out on the ground, this results in a lot of bounce while rebounding from the landing of a jump.
Bumps/Whoops: The Twin Hammers has a lot of suspension travel to soak up all kinds of nastiness. Generally it soaked up gnarly bumps quite well.
On-Road: You really don't want to take the Twin Hammers on-road, at least not in stock condition. All the attributes that makes the Twin Hammers work so well in incredibly gnarly off-road conditions work against it when driven on pavement. The Twin Hammers has a very low top speed (for a bash machine or any on-roader for that matter) and traction rolls at the hint of turning on pavement. Yes, mods can be done to turn the Twin Hammers into a better on-roader, but bone stock you won't have much fun with it on pavement.
Grass: The Twin Hammers gets around well in a straight line due to its 4wd and ground clearance. However, its low top speed and tendency to traction roll hurt it as an overall grass machine.
Off-Road: Here is where we get to the nitty grittty of the Twin Hammers. The Twin Hammers can't do hardcore crawling like a dedicated 2.2 machine can, but it can run circles around crawlers when not in big rocks. Because of its smaller tires and front diff the Twin Hammers simply can't climb like a 2.2, but it has a lot better handling (and more top speed) in open areas. The Twin Hammers can't keep up with something like an EXO on open ground like a park or a track, but it can handle hardcore trail driving and crawling better. At the end of the day, the Twin Hammers is a hardcore off-road machine intended for natural trails and smaller rock crawling. Yes, you can use the Twin Hammers anywhere and everywhere, but unless you are driving where its high ground clearance and locked diffs (center and rear) really come into play, then you really aren't seeing what the Twin Hammers can do.
Tires: Nice scale look featuring medium density foam inserts, the stock tires offer loads of traction on most any surface.
Power: A 15 turn brushed motor isn't a lot of pure wattage, nor is the truck geared for massive speed. To boil it down, the Twin Hammers is definitely not going to blow anyone away with pure power. Top speed is around 16 mph and it doesn't really get there in a hurry. But, there is an upside to the soft power. Soft power is easy for noobs to drive, and when in the really tightest of spots it can come in quite handy. For example, while out on a trail drive we came across a log that had fallen across an inlet to the Mississippi River. The log was probably 20 feet long and was about 6 feet above the water. Yes, of course we were going to drive across the log, but falling off of it ment losing the Twin Hammers to the mighty Mississippi forever. I can assure you the soft manageable power was the only type of power we wanted while driving across the log (see the second pic in gallery #2).
Radio: The stock radio is the Spektrum DX3E. Ergonomics were quite nice, the grip had soft inserts for comfort, the wheel had a foam donut on it, and the trigger was properly designed (even for guys with fat fingers). The grip to wheel relationship was also comfortable. Also of note, we got better range out of the DX3E than expected, we don't know if something has changed or it was simply our imagination. We also seemed to notice an increase in range on the two previous Vaterra's we have reviewed.
Broken Parts: We broke two parts on our Twin Hammers, the front top deck and the spur gear. The first part, the top deck, broke when landing from a relatively small ramp to grass. No doubt the fact that the Twin Hammers chassis can not bottom out put extra forces on the top deck causing it to break. We've jumped dozens of different rc's off the same ramp without issue, but the top deck on the Vaterra gave way and the truck got no higher than 4 feet off the ground. The spur blew out after a mandatory huck off the roof of a pavilion.
Misc Notes:
The tires are vented on the carcass not in the rim. This is the first time I can remember seeing this from the factory.
The green anodized parts looked trick on the Vaterra.
Yes, the cage is screwed down and takes a while to get off for any repairs or maintenance. The quickest way is by removing 12 screws.
Old school collars are used to adjust the pre-load on the shocks. At the $400 price point I would expect threaded bodies.
That spare tire you see hanging off the back, yes, it's the real deal not a fake.
The front a-arms have some webbing but are solid, good luck breaking one of those.
Do you break a lot of front shock towers? You won't on the Twin Hammers, it simply doesn't have one.
We measured runtime at 9 minutes. This was done on a small course in a backyard, half on pavement, half in the grass, and all the driving was done in "high" gear. 9 minutes comes across as a bit short in this day and age, and is no doubt due to the small'ish battery pack.
The highest ambient temp we ran the Twin Hammers was 70 degrees Fahrenheit and we experienced exceptionally cool motor and speedo temps. The highest temp we measured on the motor was 105 degrees.
We really liked the fact the stock speedo was waterproof, but in serious off-roading or crawling it drove us nuts. Most of the time the speedo would take multiple stabs to get forward or reverse to kick in.
Shifting between the 2 speeds on the fly is a LOT of fun, more fun than I remember from the old E-Maxx days.
The Twin Hammers comes with Vaterra branded wrenches and a extremely nice owners manual. Nice touches.
The stock servo while waterproof, centered horribly and lacked power for crawling or serious trail driving.
The stock battery is stated to be 2000 mah, when tested on a 1C discharge it only put out 1710 mah.
Best Mod Under $5: Heavier stock oil front and rear. We went to AE 60 in the front and AE 40 in the rear. This helps keep the truck flatter in the corners, helps it absorb jumps better, while not really losing any performance in crawling situations.
Best Mod Over $5: The stock servo centers very poorly, has a lot of play in it, and doesn't have enough power for serious crawling. Putting in a Hitec HS-5646 waterproof servo will solve those issues.
Summary:
A = Outstanding/Best in Class, B = Above Average, C = Average, D = Below Average, F = Horrific
Time To Bash: B Everything you need comes right in the box. We didn't need to make any adjustments before driving (albeit we drove it with one shock low on oil) and the included wall charger should take slightly over 1 hour to charge the Lipo.
Workability: C It takes 12 screws (ok, it can be done in 10, but it is simply easier to do the extra 2 screws) to get the cage off the Twin Hammers to work on anything. Once the cage is off the buggy is quite easy to work on.
Car Show Rating: B The entire BigSquidRC crew really liked the scale, yet aggressive, looks of the Twin Hammers.
Bash-A-Bility: C The Twin Hammers broke its front top deck on a relatively small jump, then we blew out the spur gear landing from a roof jump.
Fun Factor: B Despite its low top speed we had a great time with the Twin Hammers. How so? It was just a nice combination of crawling prowess mixed with more speed.
Handling: C Now this is a tough one. In extremely gnarly off-road conditions like crawling or climbing natural terrain, the Twin Hammers did quite well. But… on general "bash" surfaces like a baseball field, grass, hard packed dirt, or pavement, the Twin Hammers was out of its element.
Value: B Two of the closest competitors to the Twin Hammers, the Wraith and Exo RTR's clock in at $400 and $350. The Twin Hammers is right in their ballpark in price point and bash-a-bility.
Parts Availability: C After checking 3 local hobby shops neither of the parts we broke were in stock, however, they were at both Horizon and on AMainHobbies.com.
BigSquid Rating: B- Raining outside? No problem, grab the Twin Hammers. Going to the beach? No problem, grab the Twin Hammers. Wanna do some rock crawling? No problem, grab the Twin Hammers. Going to hit the local park for some hill-climbing? No problem, grab the Twin Hammers. The Twin Hammers is a decent hardcore off-road machine, that is also quite unique and great fun to trail drive with.