Review – VRX Racing XR4 Brushless Rally Car
THE VRX Racing XR4 Rally Car Review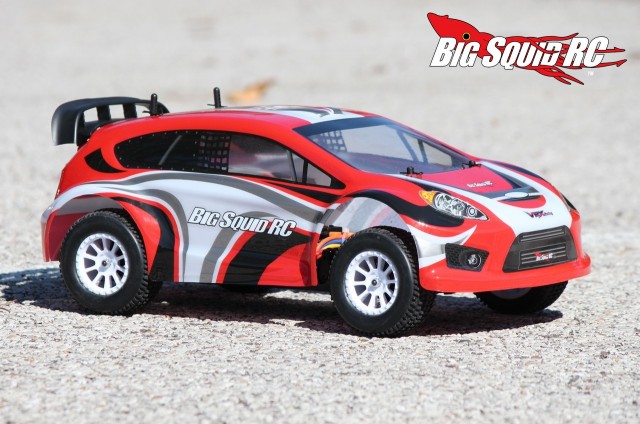 Who is VRX Racing? They are an Asian company that makes affordable basher type vehicles, that's who. They were recently picked up here in the states by IMEX RC so we received an XR4 Brushless RTR Rally Car for testing. Is a VRX worth considering? Could it stand up to the BSRC Bash Crew? Did we turn it into a pile of rubble? Hit the "Read More" button to find out…
From: VRX Racing
Direct Link: XR4 Rally Car
Unboxing Pictures: BSRC Unboxes the XR4
Review By: Cubby
Pictures By: Tim Mohr
Specs:
RTR or Kit: RTR
Age: 14+
2wd or 4wd: 4wd
Shaft or Belt: Metal shaft
Electric or Gas: Electric
Scale: 1/10th
Length: 465mm
Width: 256mm
Wheelbase: 275mm
Motor: Brushless 3000kV
Speed Controller: Spirit 45 amp
Low Voltage Cut-off: Yes
Radio: Fly Sky FS-GT2 2.4GHz
Differential: Front and rear gear diffs
Slipper Clutch: Yes
Driveshafts: CVD front, bones rear
Shocks: Oil filled, metal caps, plastic bodies
Servo Saver: In rack
Screws: Metric hex
Spur/Pinion Pitch: 48 pitch
Tires: VRX knobby type
Battery: Fullymax 2S 3250 LiPo
Part Number: #RH1028
Top Speed (measured by BSRC): 27 mph on included battery
Runtime: 11 minutes
Street Price: $199
Primary Competition: The Traxxas Rally, HPI WR8 Flux, Kyosho DRX VE, and other 1/10th brushless rally cars.
What's Needed To Complete: You'll need to supply AA batteries for the transmitter.
Build Quality: We found two of the shocks had been short filled for oil and one of the wheel nuts was not completely tightened down.
Test Drivers: Wrench Bill, Adam The Intern, Editor Brian, Iron Mike, Sam The Noob, T-Money, and yours truly.
Test Venues: iHobby Expo demo track, Leisure Hours Raceways, St Louis Dirtburners, Minnie Ha Ha Park and a CostCo parking lot.
Set-up Notes: We kept our review XR4 perfectly stock, including the battery. For charging we used a Hitec X1 Pro.
Turning: We found the car had fairly neutral turning. It didn't push in corners, nor did the front bite so much that the rear end was loose. Overall, turning was very predictable, but there was a lot of chassis lean. All that chassis lean caused numerous traction rolls on high bite surfaces like carpet and asphalt.
Jumping: Rally cars just aren't good jumpers. They usually have a big front bumper that hinders them on take off, while their large bodies act like a parachute in the air. We found the VRX to suffer from those issues, however, after you pounded though the face of a jump it had awesome suspension for soaking up big landings.
Bumps/Whoops: The suspension was up to the task, but once again that big front bumper and the low rear overhang of a rally car got in the way. It was easy to get hung up in the rough, the nature of the beast with a rally car.
On-Road: That big rally car body and soft suspension caused the VRX to traction roll while being driven on-road. It had good power and soaked up joints in the road wonderfully, but the VRX turtled too often for our liking.
Grass: The XR4 doesn't have a lot of ground clearance but it was still able to get around in moderately tall grass.
Tires: The tires are a hard compound with really soft inserts. They wore very slowly but didn't get much mechanical grip on high bite surfaces. The included tires were most at home in loamy dirt where they did produce good traction.
Power: The XR4 has good power. It yanks hard off the bottom, rips through the mid-range, and has enough top end to keep you interested. We didn't notice any cogging, but on occasion it would hesitate before finding reverse.
Radio: We got along ok with the included Fly Sky unit. It had good range, we never had a glitch with it, and its ergonomics were in the ballpark. It had a cheap low-end feel, but the trigger/wheel/grip relationship was good while the trigger had a nice feel for most of our testers.
Broken Parts: Not very many. The XR4 uses a combo of soft, to extremely soft, plastic to keep from breaking many parts. We drove it like we stole it and ended up breaking a front tie-rod and stripping out a wheel. Truly not bad for the amount of abuse we put it through.
Misc Notes:
Keep an eye on the wheel nuts, they like to loosen up while driving.
Take a look at the second picture in the first gallery. That is me flexing one of the shock towers. Both are made from veryyyyy flexible plastic that you can easily bend 2 inches. The towers are essentially impossible to break.
We needed to bind the XR4 to the transmitter. Most RTR units come with this already done.
It was nice of VRX to include a genuine LiPo battery and charger in the box, something you rarely find with a RTR.
You'll need to dig up not just 4, but 8 AA batteries for the transmitter.
The XR4 comes stock with Deans/T-plug style connectors, nice touch.
The suspension settings are on the soft side but work well for true off-road bashing.
The body and rear wing held up much better than expected. Even after a ton of bashing there still wasn't any rips or massive damage to the body.
Best Mods:
1. Better tires. The car drives well out of the box, slap on some Pro-lines to give it some real grip.
2. Smaller pinion. We found that the motor liked to run hot, even in our 75 degree ambient temps. There is plenty of rip on tap to lose a couple teeth and still have good power.
---
Summary:
A = Outstanding/Best in Class, B = Above Average, C = Average, D = Below Average, F = Horrific
Time To Bash: C We had to bind the transmitter to the receiver which took more time than on a typical RTR.
Workability: B Quality hex hardware and a simple layout made the VRX a breeze to spin wrenches on.
Car Show Rating: C Some of our reviewers liked how the VRX looked, but most were not big fans. Common complaints were plain looking graphics and wheels/tires, and a lack of scale detailing.
Bash-A-Bility: B We did manage to break the VRX but it took some serious abuse to do so.
Fun Factor: A Our bash crew had a great time testing the VRX. Solid power combined with suspension that loved soaking up big jumps always left a smile on our testers faces. It is rare for every single person on the Bash Crew to remark how much fun they had driving a vehicle, the VRX was one of them, hence it gets an A.
Handling: C The suspension was top notch at soaking up big hits, unfortunately the big rally car body left it traction rolling on high bite surfaces.
Value: B A $199 price point for a brushless 4wd rally car is a good value in our eyes.
Parts Availability: D While some VRX parts are available, you won't find them at your LHS or at many places on-line.
BigSquid Rating: B- Is the XR4 Rally Car worth your cash? Yes it is. We had a blast driving the XR4 and were able to bash it hard with minimal breakage.