HobbyZone Firebird Outlaw
---
August 15th, 2004 - Neil
From: HobbyZone
Direct Link: Firebird Outlaw


By the time you are done reading this, you could have assembled your Firebird Outlaw. This kit comes mostly assembled. Just rubberband the wing on, charge the battery and you're ready to fly.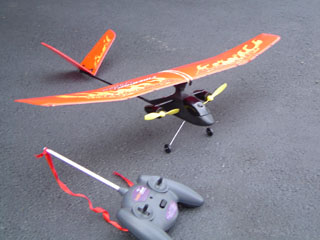 Don't expect to turn any heads with this wing-on-a-stick. This plane is built for flying, not for looks. It also doesn't really seem to be built for landing. The landing gear consists of plastic wheels on wires that are almost as useless on pavement as they are in the grass. The good news is that it handles the resulting cartwheel very well. I found that my Outlaw has survived crashes into the ground, trees, chain-link fences and even a house with only minor damage. If you have trouble keeping it in the air, it should be able to handle the abuse. If you do manage to break something, replacement wings and props are usually pretty easy to find.
The Outlaw does fly very well...provided that there is no wind. Even a little breeze can make this plane unmanageable. On a calm day, though, this plane can really be fun to fly. After a hand launch, the Outlaw will make a slow climb, followed by a slow, wide turn, followed by a slow climb, followed by a slow, wide turn, etc., etc. Climb and turn are pretty much your only options for this plane. If the plane is heading somewhere you would prefer it didn't (a house, your neighbor's new car, a jogger), the best you can do is close your eyes and hope it ends quickly. There is no way to quickly bring down the plane or turn it out of the way. It is important to make sure the place you fly has plenty of room to make some wide turns.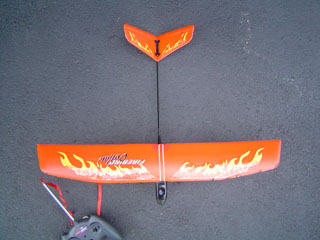 After you've mastered the climb and the turn, you can try to go for more advanced maneuvers...like turning the other way. The fact is that after you have had a few flights with this bird, you'll realize that the Outlaw is pretty much a kite with a remote control. You can put it up in the air and watch it float around for a while, but that's where the fun ends. There aren't enough controls on this plane to do any stunts. The plane's two-channel control is also too simple to teach you anything about flying larger RC planes.




In the end, the Firebird Outlaw is not a bad little plane. It just doesn't do enough. If you are looking for a substitute for your kite on a windless day, this could be kinda fun. If you are looking for something more exciting than a leisurely day at the park, you should save your cash for something better.



Write your opinions in the forum.



Summary

| | |
| --- | --- |
| Time to Bash | 9/10 Charge and go! |
| Workability | 9/10 Not much to work on. Worst case scenario: Buy a new one for $50. |
| Car Show Rating | 3/10 A wing-on-a-stick is not so impressive. |
| Bash-A-Bility | 8/10 It puts up with quite a bit of abuse. |
| Big Squid Rating | 6/10 Tentacles. This plane just doesn't do enough to keep it fun. |