Kyosho Mini-Z Overland
---
August 15th, 2004 - Neil
From: Kyosho
Direct Link: Mini-Z Overland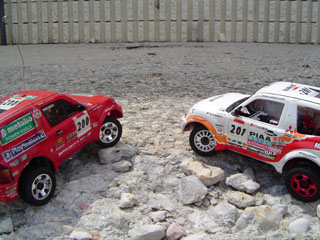 The Kyosho Overland is some big fun in a little package. Unfortunately, this fun has its price.

When you take the Overland out of its package, you will notice the incredible detail on these little models. Everything from the lights to the windshield wipers to the paint job shows how much care was taken when designing these trucks. Available in a variety of different bodies, you should be able to find a sweet ride that suits you.







After you finish admiring your truck, you'll be pleased to find that you just need to put in batteries and you are ready to go. And go you will! With the stock engine, the Overland will move around 8 mph. The X-Speed motor upgrade will put these up to about 11 mph. At top speed, a sharp turn will easily roll the truck.
We have found that there are two groups of people that play with the Kyosho Overlands. The first group makes little tabletop tracks. They race their trucks through little obstacles and always keep their trucks looking very pretty. The other group bashes them like they do with the rest of their RC trucks. We fall into group 2. We race in an empty parking lot and set up a track using ½ inch PVC complete with a nice ramp or table-top.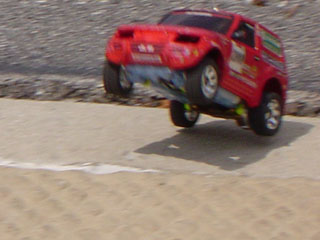 When we started jumping these cars and exchanging paint on the course, we noticed these cars don't take the abuse too well. The shocks do an ok job, but at this scale, every landing hits pretty hard. With all of the hard plastic these cars are made from, it is only a matter of time before things begin to break. The wheels seem to be first to have problems, so you might want to start with a set of aluminum rims. It is also pretty easy to strip out the screw heads on these little trucks, so you should also consider a new aluminum screw set. If you can avoid working on the front steering section, stay out of it. It is a pain to get back together properly.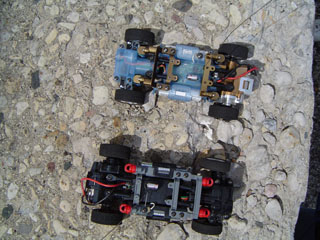 The good news is that GPM makes a full line of aluminum parts for the Overlands. The bad news is that most of your parts have to be ordered over the internet.

I can easily recommend the Kyosho Mini-Z Overland to anyone that wants a little SUV to drive around his or her living room. It looks great and moves pretty quick for its size. If you want to start doing some mini bashing, be ready to start doing a lot of mini repairs.



Write your opinions in the forum.



Summary

| | |
| --- | --- |
| Time to Bash | 10/10 Just add batteries! |
| Workability | 6/10 Screw heads strip quickly. Front end is a mess to work on. |
| Car Show Rating | 9.5/10 Looks like the real thing, only small. Awesome detail. |
| Bash-A-Bility | 3/10 Be ready to replace everything. |
| Big Squid Rating | 7/10 Tentacles. Ton of fun, but it doesnt hold up to rough play. |