Robitronic Speedstar Brushless 1/8 Speedo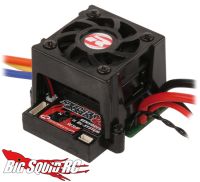 Here's another new item from Robitronic today, this time it's a brushless speed control for 1/8 scale electric vehicles. The Speedstar Brushless ESC is LiPo ready and has many features making it suitable for racing. It's got selectable current limiting, adjustable power curves and motor timing, and adjustable brake. Reverse can also be disabled. The Speedstar can handle 6 – 14 cell NiMH batteries and 2 – 4S LiPO and LiFE packs, sensored brushless motors down to 4.5 turns and brushed (in 1/8 scale? why?) motors down to 7 turns.
For some more info, plus some news about a motor to go with it, check out Robitronic's web site.