Robitronic Speedstar Brushless ESC Programmer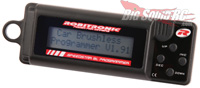 Have a brushless Speedstar speed controller? Robitronic has a new ESC programmer for you. It can save the settings in it's internal memory, and it's ready to download all the settings to your ESC. It will also display maximum and current temperature and even maximum speed. Kinda cool.
Check out Robitronic's site for more info.