Robitronic's got a new starter box for ya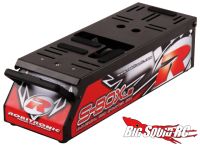 Do you need a new starter box?  Robitronic has a new one if you're interested.  The Robitronic Universal Starter Box is suitable for all the nitro cars and trucks out there.  Whether you race sedans or monster trucks, this box should work pretty well for you.  It can take it's power from a pair of NiMHs or LiPos, or a 12v field battery if you have one.  The twin 550 motor powered drive belt/starter wheel can be adjusted and it's orientation changed for either laterally or longitudinally mounted engines.  It really should work for just about everyone no matter what you drive.
Check out Robitronic's site for all the specs.