Robitronic's Nuremberg News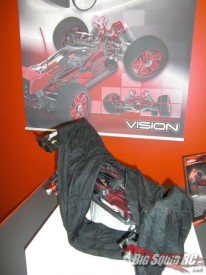 Robitronic unveiled their all new electric 1/8 scale buggy, the Vision, at Nuremberg.  The Vision has been designed from the ground up for brushless power, it's not just a simple conversion of a nitro buggy.  The chassis is carbon fiber, with alloy inlays to aid in heat dissipation, one unique feature among many on this car.  Robitronic is also touting their redesigned differential as a "radically new" design that offers up "supreme smoothness and zero frictional heat."  The buggy also features extremely long a-arms to help it's large bore shocks soak up all the bumps in the road.
For more info hit up Robitronic's web site.