It's a bird, it's a plane, no it's the 1/10 Roc Hobby Mashigan RTR. The Talk of the town aka the scale world, is buzzing over the new Roc Hobby Mashigan. Since Roc Hobby and FMS Model started putting out rigs, the scale world has been begging for a 1/10 scale from them. So, will this rig change the way we scale, or will it be a big red belly flop? Find out now because the Roc Hobby 1/10 Mashigan Big Squid RC review starts now!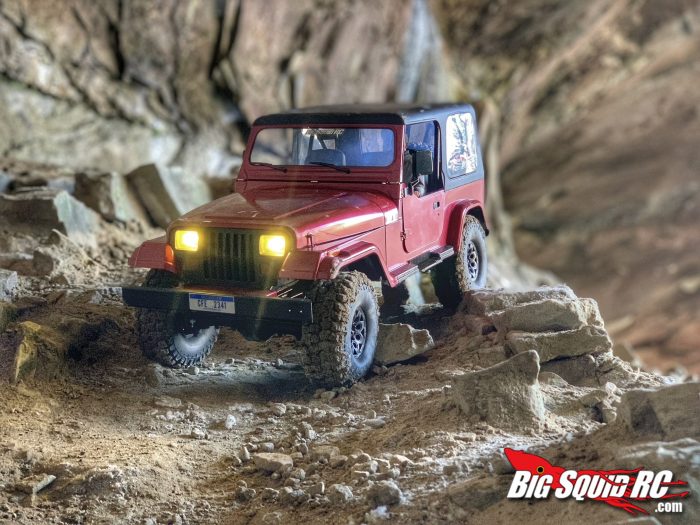 Direct link: Roc Hobby 1/10 Mashigan RC Rock Crawler RS Red 4WD
From: Roc Hobby
Running Film: Big Squid RC Roc Hobby Mashigan first run
Unboxing video: Big Squid RC Unboxing Roc Hobby 1/10 Mashigan
Review By: Jeremy Griffith
Photography By: Jeremy Griffith
Test Drivers: Jeremy Griffith, Nick Barbar AKA RC Jesus
Specs:
RTR or Kit: RTR
Ages: 14+
2wd or 4wd: 4WD
Shaft or Belt: Shaft
Electric or Gas:  Electric
Waterproof: Water Resistant
Scale: 1:10 on the box, but really 1:8th or so.
Approach Angle: 68°
Departure Angle: 47°
Wheelbase: 339mm
Motor: 35t 550 Brushed Motor
Low voltage cut off: yes
Radio: 2.4GHz Radio
Ground Clearance: 82mm
Servo: 15kg Metal Digital Servo
Screws: Hex
Chassis: STEEL C-CHANNEL FRAME
Bearings: Yes
Tires:  115mm, W:30mm
Wheels: 1.9
Part Number: ROC11033RSRD
Street Price: $329.99
Run Time (measured by BSRC) 2hrs with a PitBull RC 3s 3400 MAH
Top Speed: 15km/h Max
Primary Competition: Axial Adventure, Traxxas, Element RC, Rebel RC, and RC4WD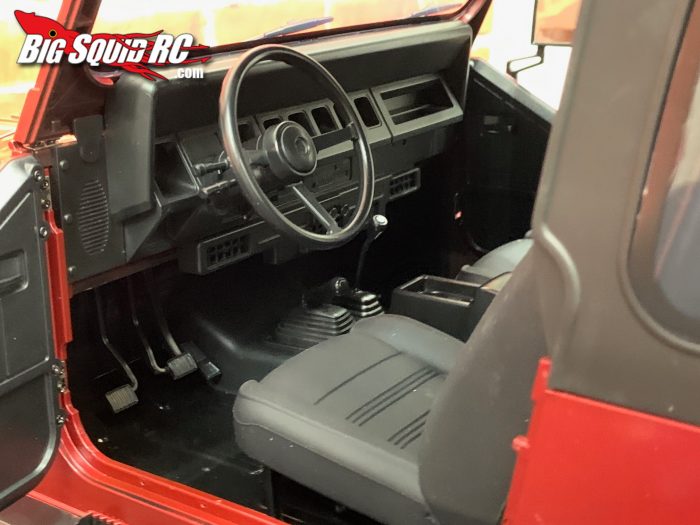 Build Quality: Out of the box you will need to do some assembling. The seats have to be installed which wouldn't be a big deal but you have a link right in the way of two of the screws for the seats. It's a bit of a pain to get to the screws without removing the link.
Set up notes: Other than the seats, you will need to install the spare tire on the back if you want. You will also need 4 AAs for the radio.
Test Venues: Daniel Boone National Forest, Juicebox Holler
Radio: 4 Channel 2.4GHz, what is known to be standard with the larger scale rigs from Roc Hobby. And with the Mashigan only having headlights, you will have extra channels for your own mods.
Turning: The Mashigan uses a 15kg Metal Digital Servo that can be loud at times but gets the job done. High speed turns with the Mashigan will lead to roll overs, but low and slow the rig turns great with a smooth radio to servo response.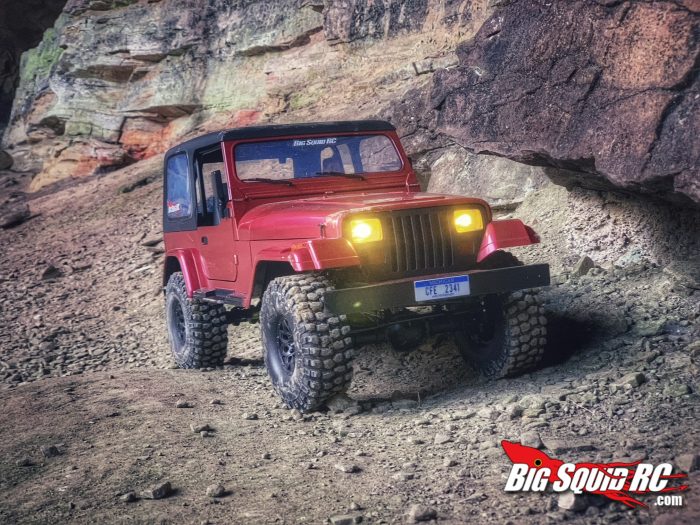 Crawling: Despite the large size, the Mashigan performs great over the terrain, reacting as a real 1:1 rig would. The weight to scale ratio is the best we have seen on an RTR. The smaller shocks actually get a workout and unload amazingly. The tires have a softer compound that will absorb the first impact with a sick scale look. The Mashigan is a tall, heavy rig making it top heavy so pick your side hills wisely. Where the Mashigan is lacking would have to be the motor and throttle response. While doing some light trailing it's not noticeable. But while going over obstacle's the rig has no low-end crawl, making it hard to creep over an obstacle. Having to give a rig more throttle then when its needed can lead to broken parts fast. The Mashigan comes with a 4-link suspension, allowing the rig to perform better out of the box. You will have the option for a leaf spring kit from Roc Hobby. Yes, 4-link performs better than leaf springs, but leaf springs are more scale. And given that the Roc Hobby Mashigan is a scale builders bread and butter, the leaf springs seem more fitting.
Broken parts: Yeah, we broke some things. Our Mashigan took a hard roll down a rock hill, you can see it in the running video, its wicked. The crash itself was beautiful but the after math on the body was not. The driver's door bottom hinge was destroyed, the hood prop flew off along with one of the hood latches.
Best Mod: We think with a better Motor and ESC the driving experience of the Roc Hobby Mashigan would be even more enjoyable than it already is.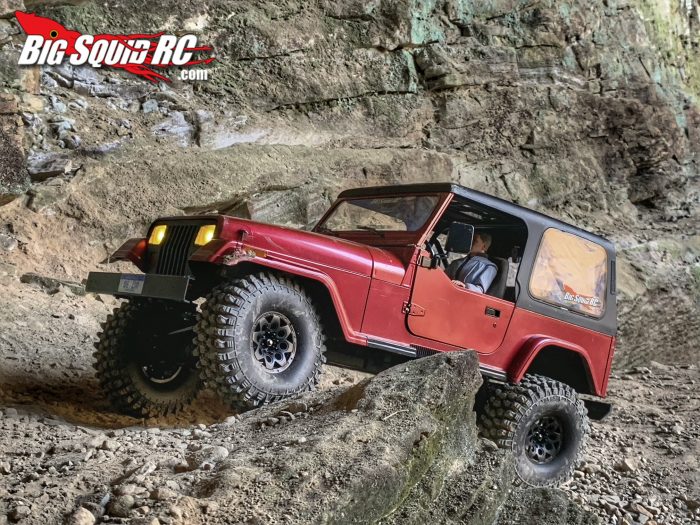 Summary:
Time to bash: For a Ready to Run rig you have to do some leg work before hitting the trails. The seats are more involved due to having to remove links to properly install. Luckily this task only has to be done once, so only the first run will take you longer than normal.
Workability: The Mashigan has a simple layout with a scale drive line. Once the body is removed the rigs moving parts are easy to access. The Body can also be disassembled for customizing or repairs.
Car Show Rating: It's kind of big. On one side you have a super scale rig with all the details you would want in a 1/10 scale hard body rig. Opening hood, opening doors, opening tailgate, soft seats, full detailed interior, basically the ultimate scale rig. That brings us to the other side. The box says 1/10 but the Mashigan is clearly not that size and is more of a 1/8, maybe 1/7 scale. It's like leading the last lap of a race and running out of gas. Roc Hobby has done a fantastic job at making the Mashigan look like its real live counterpart when it comes to the details. We feel they just missed the mark on the size. When looking for a driver for the Mashigan, look for a 9-to-10-inch figure. Those are the best size figures to use.
Handling: The Mashigan drives how a scale rig should. Bouncing around and off the terrain, handling as a full-size rig would, the Mashigan is on another level when driving it scale. The downside is the throttle response is not the best and could use an upgrade right away.
Value: Roc Hobby has hit a home run with the value on the Mashigan. $329.99 is a great price for such a scale rig. The Mashigan can be a leading example of how you can make a scale rig without charging a Squid load.  Every inch of the Mashigan is worth the price tag!
Parts Availability: Roc Hobby and FMS model share a lot of the same parts. But unfortunately, the main parts support is still online. Once Roc Hobby and FMS can fill up the local hobby shops with parts it will make the brands more reputable.
Big Squid Overall Summary: Roc Hobby is well on their way to dominating the scale crawler world. With their insane details and capability, it's only a matter of time before they come out with a mic drop rig. The Mashigan is close with its scale details, great performance, just needs to be smaller. The chassis, wheels, tires, and axels are all a good size if the body was a Long Wheel based rig. For example, a 1985 Dodge Power Ram would be a good fit. As Roc Hobby is always innovating and coming out with new rigs, I can see the future is bright for the scale crawler world. As long as Roc Hobby continues to show us what they can do there will be no stopping them from achieving scale domination.
Enjoy the videos, please make sure to like, comment and subscribe, it helps a lot!
Unboxing Video:

Running Video