Roche Heavy Duty Spool Set for Hot Bodies TCX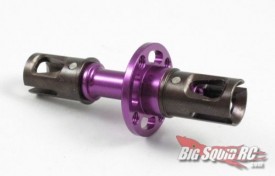 If your Hot Bodies TCX racing sedan isn't high-end enough for you, well, you could always add even more high-end hop-ups to it.  Roche Products happens to have just such a thing for you with their new Heavy Duty Spool Set.  The Spool Set is precision machined out of spring steel for durability.  If you choose to use this, then you'll have to replace your drive shafts with Tamiya or Yokomo dog bones 45.5-46mm in length.
Roche's Heavy Duty Spool Set is available direct from the Roche website for $18.80.