Rodney Wills Goes to Axial!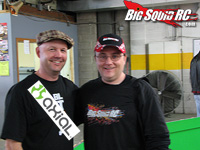 Good friend of Big Squid RC, Rodney Wills (seen here in a blurry shot with yours truly) has left HPI Racing and headed off to Axial! Rodney had been with HPI for a while, and I think it's an interesting move in the RC industry. It reminds me of another recent Axial addition.
It's great to see Axial gearing up with some big names as they continue to push forward in the rock crawling and other segments of RC! We wish Rodney luck with his new endeavor! It's going to be exciting to see what Axial has up their sleeve for the future!
You can read all the official stuff on Axial's site.