Rogue Elements improved sprocket for Venom GPV-1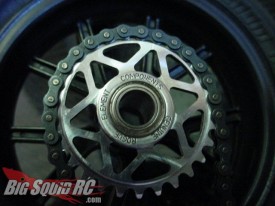 Rogue Elements Components is turning on the machine and cranking out some limited run pieces for the Venom GPV-1 motorcycle.  This piece is a new rear sprocket that replaces the original which is known for being less durable than is expected. REC's new piece is machined out of 6061-T6 aircraft aluminum, and the teeth and hex are machined at the same time for a perfectly concentric finished product.  These sprockets are only going to be available for a limited time and the only way to get one is to pre-order it and put down a $5.00 deposit no later than November 7th.  Then pay off the remainder of the $22.95 cost before the shipping date.
Check out the Rogue Elements Components newsletter for more info and ordering instructions.