Route 66 Invasion is done!(now with video!)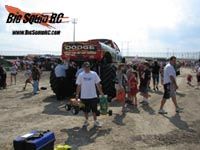 What a cool event! We got off to a bit of a shaky start.. being the first time they have had RC'ers out there, nobody was sure what to do with us, what they would let us do, and what the reaction would be. That all changed when the first truck hit the first big ramp! The crowd went nuts! It's hard to explain the feeling you get when 10,000 people are cheering you just for doing donuts, kicking up dirt and jumping big ramps.. to me.. it's all standard basher stuff.. but to them.. wow! Once I got a feel for the ramps, I started going for back flips.. talk about crowd reaction! OOOHhhhhhh… Awwwwwww! On a miss.. then… Ohhhhhh .. YAAAAAAAAAA when ya land it.. it was really cool. Our time was cut pretty short, but just having a chance to show all those people how cool RC is was a good thing.
We got ourselves onto the field about 1 hour before the event. They had all the real monster trucks out there, with the drivers taking pictures and signing autographs.. We probably had at least 10-20 people around our cars at all times, touching.. poking, testing the shocks, and asking all sorts of questions! I would bet anything that the local RC shops get a good amount of people in tomorrow looking to get into the hobby! When I get time, I'll post a quick video of the last 30 seconds. I had the camera on a tri-pod, so it's not the best view.. but you can hear the crowd just going nuts! I'll get some more pics up soon also.
Thanks to Steve from Hobby Town USA for allowing us to help them out with the show, thanks to pro-driver Tim Mohr for making the drive up and helping us WOW the crowd! Also thanks to Joe, Bill and Chris for helping us bash, impress and ramp building! 🙂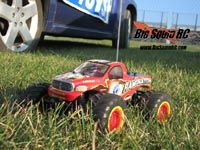 Also, check out this picture of a Losi Raminator they had there that they had autographed by the Raminator Driver! Very cool!
I can't wait till next season!