RPM front & rear bumpers for the Mini E-Revo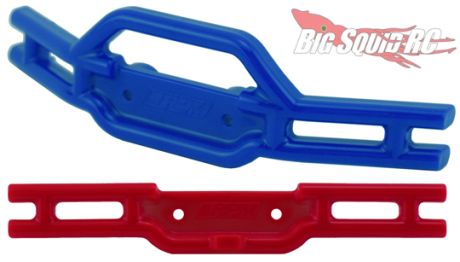 Have you been sitting there, staring at your Mini E-Revo, thinking "you know… this truck just isn't blue enough…"  Or maybe red is more your color.  Think no more because RPM has a few new parts for you that WILL make your truck bluer… or redder… which ever you prefer… GUARANTEED!
The new RPM front and rear bumpers will do more than just add a splash of color to your ride though.  You'll also be adding to the "scale" (I use that word loosely) looks of your M-Rev because these bumpers are designed after that twin tubular style that is popular with full scale off-roaders.  And of course they are molded in RPM's legendarily tough RPM Material, making them super strong and lightweight.  And, most importantly, they are almost double the width of the stock bumpers, offering that much more protection for your expensive little toy.
Oh and for you Emo kids out there they also offer them in black, so you don't have to worry about anybody giving you that attention you crave so much.
The front bumper will set you back around $9, the rear is probably gonna go for $10ish.  Check your local hobby shop early next month for these.  Head on over to RPM's site for more info.