RPM – Narrow Roof Mounted Light Bar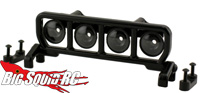 I have been seeing more and more light sets show up at bashes and at the track, and it looks like RPM is riding that wave. They now have a Narrow Roof-Mounted Light Bar. They had a pretty cool 6 canister light bar previously, but it didn't fit all vehicles. Their new narrow version will even fit the Traxxas Mini Slash! All you need is a 4 inch body width on top to be able to mount this new bar. They are available in black or chrome.
Remember the light bars do NOT come with lights or LED's. Those you will need to supply yourself, or pick up a set from someplace like rc-lights.com. (Read our recent review!)
Visit the RPM RC site for details.