RPM RC Products A-Arm's For The Axial EXO Terra Buggy Review
THE RPM RC Products A-Arm's For The Axial EXO Terra Buggy Review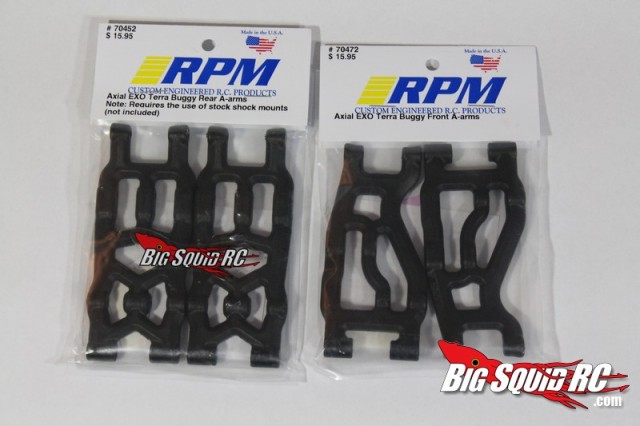 Today we'll be taking a closer look at the RPM front and rear upgrade a-arms for the Axial EXO Terra Buggy. Since first getting the EXO it has been one of the most driven vehicles in our entire stable of test-mobiles. And being wired the way we are, over time our EXO has suffered some pretty serious beatings. Most recently we used the EXO in our BigSquidRC demo's at the iHobby Cleveland track, which basically means hucking as huge as we possibly can for 4 days straight while landing to a thin layer of carpet over concrete. After iHobby we noticed all the stock arms were basically taco'ed out and needing replacment, luckily RPM had just sent us some of their uber-basher arms for review. Are the RPM arms better than the stockers? Are they worthy of your cash? Let's find out…
From: RPM RC Products
Direct Link: RPM A-Arms for Axial EXO
Review By: Cubby
Pics By: Cubby
---
Street Price: $15 per pair, part #70472 for the fronts, #70452 for the rears
What Is It?: Upgrade a-arms intended to offer a better fit and to be tougher than stock.
What's In The Box: One pair of a-arms, RPM stickers.
Test Drivers: Cubby, Brian, Tim, Sam The Noob, and Iron Mike
Test Venues: Leisure Hours in Joliet IL, backyard, CostCo parking lot, and a cul-de-sac
Review Platform: Axial EXO Terra Buggy kit with STRC hop-ups, equipped with Castle Sidewinder speedo, Castle 1410 motor, Hitec steering servo, Dynamite SpeedPack 3S Lipo battery, and controlled by a Futaba 4PL radio system.
---
Installation: RPM claims to produce arms with closer tolerances than the stockers and I would have to agree. The RPM arms mount up easily with no issues and fit better than the stock parts. Kudos, it takes a lot of time to make a part fit better than stock and RPM put the hours in and pulled it off.
Durability: Our STRC tuned EXO uses aluminum hubs at all four corners, thus transferring every bit of impact force directly to the a-arms. We drove the EXO like we stole it for two weeks, basically bouncing off every pipe possible, hitting every big rock, and jumping off every high point we could find and we not able to break the RPM a-arms. At this point I think we'd have to total out the EXO to have a shot at breaking one of these arms.
Issues: None, zip, zero.
Misc Notes: The stock Axial arms are made out of a fairly pliant plastic, comparing them against the RPM arms in-hand showed the RPM's had slightly more flex. On track we didn't notice any extra flex of the RPM arms.
---
Summary:
Time to Bash – 8/10 – Doing any sort of wrenching on an EXO can take some time, so installing the RPM arms was not a quick mod, however they bolted up easily with no issues.
Car Show Rating – 7/10 – These were never designed to be anodized aluminum bling parts, just tough as nails black plastic that works in the real world.
Bash-A-Bility – 10/10 – RPM durability is legendary stuff and their EXO arms were no different.
Value – 9/10 – Stock Axial arms are $10 a pair, while the RPM arms go for $15, a 50% increase in price. However, RPM arms are worth their weight in gold if you are a serious basher, thus making them a great value.
BigSquid Rating – 8.5/10 – Tentacles. The RPM a-arms for the Axial EXO are very high quality parts that not only fit better than stock, but are also more durable. I highly recommend them for all you hardcore Axial EXO owners out there.