RPM Slash 4×4 Body Mounts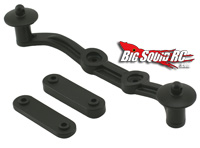 Own a Traxxas Slash 4×4? Is it covered in RPM hop up parts yet? Well here are some more for you! The new RPM Slash 4×4 Body Mounts have adjustable to give you different heights for your custom body. They start off 1/8″ lower then stock, and can raise up 1/4″ more. They can be mounted on the front or rear of the truck. Two kits will be needed to complete the truck. Using the spacers will require some longer screws.
Visit the RPM RC site for details.