RPM Traxxas Slash 4×4 Caster Blocks & Spindle Blocks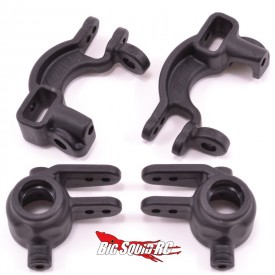 The good folks over at RPM RC have come up with another "bomb proof" part for your Traxxas Slash 4×4, Stampede 4×4, or Rally car. Part number #73592 is their new front Caster & Spindle Blocks that will help ensure your Traxxas bash machine comes home in one piece instead of multiple.
RPM started with a blank sheet of paper and designed from the ground up some truly bash worthy parts. They used more of their legendary plastic material around the kingpins and subtle changes to make sure their new Caster/Spindle combo is not only tougher than stock, but also works better when driving.
Retail price for the set is $19, the release date is June 26th, and you can get more information at THIS LINK over on the RPM Website.
Have you read our last RPM review? If not, check it out HERE.