Rub-A-Dub-Dub Cub Report 06.22.08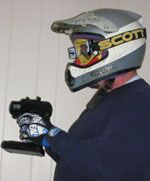 Traxxas Horizon/Losi are all over the googolplex hot rock crawling trend. They announced last week that yes indeed, they have a rock crawler on the way with a debut date of June 27th. They will be premiering the most radical comp truck ever released on their website, stiff arming the trade show circuit and making the mags wait. Should be awesome for the hit counter on Losi.com though! And I've got to give them mad props for them giving the public what it wants. Right now it's rock crawlers and 8th scale electric truggies. They are 50% of the way there, and it's looking like only a matter of weeks now before they cover the other base.
Anybody else notice that R/C Car magazine is getting huge? Perhaps not in circulation, but it seems to grow thicker and thicker in pages each month. And with a limited advertising base, much of the added thickness is honest to goodness reading material! Great for them, looks like the new crew of Bess, Waldron and Yu are getting the job done. I've always been a huge Hi-Torque publishing fan, especially back in the Rick Sieman days, so it's nice to see their rc mag putting on a big push. The days of the paper based media are numbered, but it would be nice to see RC Car go out on top of the mag era while BigSquidRc pwns the internet based crowd.
Thunder Tiger/AE following Traxxas? Say it isn't so, but it is. AE has whipped out the checkbook and bought up some sponsorship of one of the elite CORR teams just like Traxxas did a few months ago. Why must AE always be late to the table? Just saying…..
Btw, word from within the industry is that AE will have out their full comp crawler in 2016.
Just wondering, when the hell is the fancy dancy blue anodizing trend going to go away? Nothing screams "look at me, I have the trickest gear of 1999" faster than blue anodizing. Can't the industry come up with the next gen of trick coating?
One last note this week. During a vapid cleaning of my rc room last weekend, it finally hit me that I have way, I mean INSANELY too much gear just laying around. I've reached the point where my rc room would put most hobby shops to shame. Anyways, to get to the point, I loaded up a bunch of old gear and hit the track with it. No, not to race, but to give it away to the noobs/novices. I just want to
encourage all 3 of my readers (it was 5 last week- DOH!) to think about just giving away some of your old gear sometime, instead of heading the Epay route with it. Our beloved hobby needs all the help it can get right now, and you giving some kid one of your old battery packs or nitro engines certainly won't kill you, but it will make the kids day, and perhaps be one good reason for the kid to stick with rc
instead of getting into gaming, paintball, bmxing, ect.
That's all for this week, support your local hobby shops and tracks!!!!
Cub-Reporter