Savox SB-750TG Digital Servo Review
Savox SB-750TG Digital Servo Review
From: Savox USA
Review by Cubby.
Last week I had the pleasure of reviewing one of the most uber servos on the market, the Hitec 7950, this week I'm testing a servo from a little known company called Savox. Savox may be little known to the masses, but they make a lot of servos (and brushless motors) for some of the most popular selling rc car manufactures in the USA. So while Savox makes most of their bones with OEM work, they also sell product under their own badging.
First off, the specs…
Torque- 7 kg-cm (97 oz-in) at 6 volts, 11 kg-cm (152 oz-in) at 8.4 volts
Speed- .09 at 6 volts, .07 at 8.4 volts
Brushless Motor
Titanium Alloy Gears
Water-proof via 4 silicon seals
Digital Control
Aluminum Case
Size- 40.3 mm x 20.2 mm x 38.5 mm
MSRP- $145
Overall Thoughts-
Fit– This is a standard 10th scale sized servo, we had zero fit issues, it popped in like any normal servo does. We installed the 750TG in- Associated RC10T4.1, Losi XXX-S, Traxxas Slash and HPI Blitz ESE, all with no issues.
Power– The Savox 750TG is intended to be more of a speed than a power servo, with that being said, it had plenty of power when used in the XXX-S, but came up a bit lacking in the Slash, Blitz and T4.1. Quite simply, high torque servos will whip the front wheels around with much more authority then the 750TG does. But, if you are putting this servo into a touring car, or 10th scale buggy, it'll have more than enough power to keep the wheels pointed where you want them.
Feel– I like buttery smooth servos, heck everybody does, and the 750TG can not be included in that category. The Savox is just plain notchier during the course of its swing than the better servos in its class. Is it terribly notchy? No, it's not, but there are much smoother servos in its price category.
Speed– We used a Castle Max Pro speedo with its BEC set to 7.0 volts during all our testing. Throwing 7 volts to the Savox should have given us response times around .08-.09, which should have been pretty fast. In the real world, the Savox seemed quick, but not blazing fast, perhaps not as fast as the numbers would have indicated. If you are anal about your servo speeds, the Savox will come up a bit short for you, if you are one of us normal folks, it's more than fast enough for any situation you'll come across.
Centering– Houston, we have a problem. Our Savox 750 did not center well. It didn't center nearly as well as our high buck reference servo (a Hitec 7955), nor did it center as well as some rather low buck servos. Was it the worst centering servo I've ever driven? No, it wasn't, but it didn't even center as well as a cheap RTR servo we popped in. Here's to hoping it was just an issue with our test unit.
Durability– We absolutely tortured the Savox 750TG (read- no servo saver in the Blitz or XXX-S) and did not suffer any broken gears. But… right out of the box it was the loudest servo I've ever heard. I'd guess it was 6-10 db louder than any other servo I've laid ears on. It wasn't a gear grinding kind of sound, it was a motor fighting to center itself type of sound, and it only grew louder the more we ran it. We tore the servo down, and found no obvious problems. The obnoxiously loud sound didn't seem to have an effect on performance or durability, but given enough time, it just might end up louder than The Who in concert.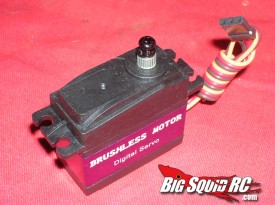 In Conclusion– You can find good servos at nearly any price point, the competition out there is fierce. Unfortunately for the Savox unit we tested it wasn't a standout performer in any category. We didn't have any reliability issues with the 750TG, and as a whole it performed better than the junk stock servo that probably came in your RTR, but there are many other servos at its price point that are better. As with all of our stuff, if you see us at a bash, stop by and check out the vehicles we have with us. We may let you take a test drive, and at the very least get you some stickers!
SUMMARY
Time To Bash – 10.0/10 – Installs just like any normal servo, no problemo.
Workability – 10/10 – Should you ever have to crack it apart, the Savox is as easy to work on as pretty much any other servo.
Car Show Rating – 7/10 – Some guys around the office were feeling the love for the purple anodizing, others not so much. The servo actually states "Brushless Motor" boldly on one side of the case, which looks a bit hack. In the end, it looks better than a base servo, but not as trick as the more esoteric units on the market.
Bash-A-Bility – 7/10 – No, it didn't break on us, but it sounded like it was sport'n some serious issues inside its guts. I hate to take off points because it never actually broke, but I feel ok taking off points because my truck was always the center of attention on track (in a bad way) because of the noise coming from the servo.
Big Squid Rating – 6/10 – Tentacles..Skip on this one, there are better performing servos out there for the same (or less) price point. If you do end up with one in your hands, it seems to perform ok and have good reliably. If you like having some funky noise coming out of your car that makes every corner marshal give you the "What the heck is wrong with your car??" look, than this is the servo for you.