Scale Window Nets from LunaTik Engineering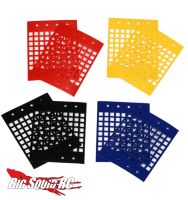 Here's a quick and easy way to add a bit of scale realism to your 1/10 or 1/8 scale cars and trucks.  LunaTik Engineering's Scale Window Nets can be installed easily on pretty much any vehicle, attach it to a roll cage with screws or zip ties, or you can glue it to the body with some Shoe-Goo or whatever.  These nets would look great on all those short course trucks out there.  They measure about 2.5″ wide by 3.25″ tall and are easily trimmed for a custom fit.  You have your choice of blue, red, black, or yellow and each pack comes with two nets.
These are exclusively distributed through TGN Distributing, so check out their site for more info.