ScalerFab Releases New Trail Armor for the Axial SCX10 III Jeep Gladiator
Does your Axial SCX10 III Jeep Gladiator need some new hardware for the trail? ScalerFab has released a new array of trail armor for this long-wheelbase trail truck. all geared toward toughening up your trail machine.
Starting up front, three new bumper styles are available, all with their own unique designs. If you prefer a scale, no-frills front-end on your SCX10 III Jeep Gladiator (or Jeep JLU), ScalerFab has released the Narrow Front Bumper (starting at $47.95). If your rig is geared toward extreme conditions and requires the use of a winch, the Narrow Winch Front Bumper (starting at $52.95) will help you gear up for your next outdoor adventure.
For comp-focused builds, the Steel Comp-Style Front Bumper (starting at $53.95) is a barely-there bumper that features a stinger for added front-end protection and/or towing assistance.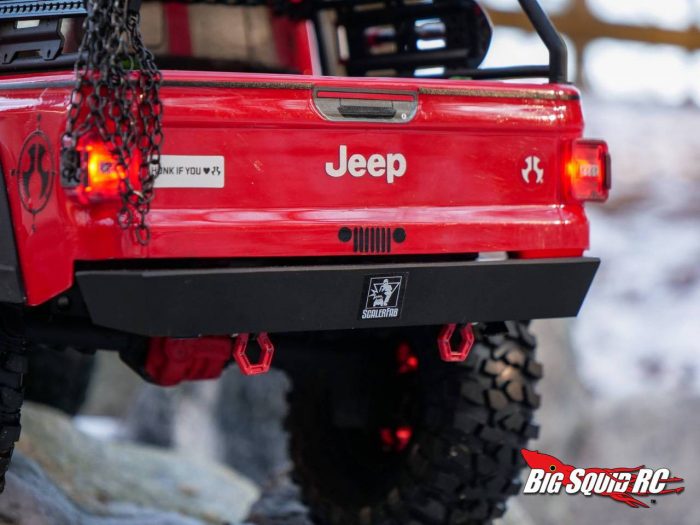 You can also swap out your stock rock sliders for a set of ScalerFab's Steel Adjustable Bolt-On Rock Sliders (starting at $29.95) add solid, tube-style rock sliders to your rig, improving its ability to glide and navigate tricky or jagged rocks.
To finish off the backside of your SCX10 III Jeep Gladiator, the SCX10 III Jeep Gladiator Rear Bumper (starting at $44.95) provides a solid brace for your rig. With its flat top and angled faces, this bumper looks like a great way to beef up the rear-end of your SCX10 III.
All of ScalerFab's SCX10 III Jeep Gladiator items are available in various finishes, and some of the accessories can have optional add-ons applied. To learn more about the complete lineup of Axial SCX10 III Jeep Gladiator trail armor from ScalerFab, visit scalerfab.com.
Click Here for more ScalerFab news on BigSquidRC.