SCALERFAB RETRO SERIES BUMPERS FOR THE AXIAL SCX10 III BRONCO!
From the Majestic shop of ScalerFab comes a beautiful set of Retro front and rear bumpers for the Axial Racing SCX10 iii Bronco.  Our Bronco has not had an easy life since we received it. But after all the abuse it has taken, the rig is holding up strong with only cosmetic damage. Now that the little Squid has basically taken it over, it seemed fitting to get a good set up bumpers.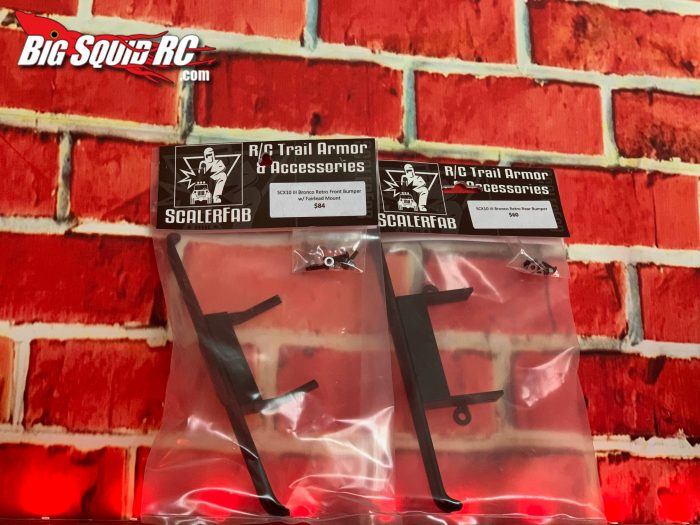 While at the Ultimate Scale Truck Expo we were lucky enough to be booth neighbors with ScalerFab. ScalerFab has always showed Big Squid some love with their hospitality, and they make some killer popKorn as well. When ScalerFab showed us the Retro Bumpers for the Axial Bronco there was no question, we had to have them!
Like all of their products the Retro Bumpers looks amazing. Streamline looks made to perfection; the Retro Bumpers are a must have if you own an Axial SCX10 iii Bronco. ScalerFab's precision on the Retro Bumpers make the installation a walk in the park. The added weight from the Retro Bumpers helps the rig stay planted to the ground, keeping the rig from tipping as much.
ScalerFab has proven once again why they are the leader in trail armor with the Retro Bumpers. Don't just take my word for it, head over to ScalerFab.com and see what options they have for you!