Schumacher Cougar SV – More Info!
Schumacher Racing has finally posted the official information on their new Cougar SV 2WD Off Roader.
It has a mid-motor design, will take stick or saddle lipo's (with optional tray), 13mm big bore shocks with titanium shafts, ultra compact transmission, and a ton of other features!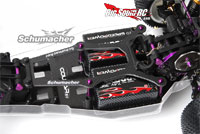 Check the official Schumacher Racing site for more details.