Schumacher Gives You Balance!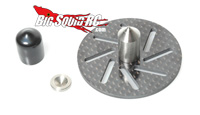 Just released from Schumacher Racing is ths U2582 Car Balancing Jig for the Mi4LP Car. The Mi4LP chassis all have the correct holes to be able to use this jig for super accuracy while trying to get your weight just right or making adjustments for your LiPo's.
Check the official Schumacher Racing site for more details.