Schumacher Mi3 Sets New World Speed Record for Fastest RC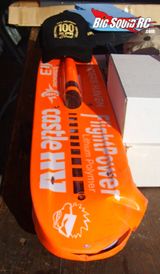 Wow! While we are still waiting on official numbers from the International RC Speed Challenge, Schumacher USA has sent word that a modified version of their Mi3 has set a new World Record! Check out that Schumacher Mi3 "streamliner" shot!
This isn't any of that 'car on a string' junk either! This is a RC car being driven down a track by a driver! Nic Case. The first pass with the car was 153.74 mph, and the second pass was 161.76mph! There are a lot of people trying to get that Worlds Fastest RC title, and this number is going to be a tough one to touch for a while!
Here is a sweet second shot of the car!
Congrats to all the drivers that made it out to the event, and special Congrats to Nic and Schumacher!
If you have stories, pictures, or videos, please drop me a email, we'd love to see them!