Schumacher Mi4 Coming in May!
We just got word about thew new Schumacher USA Mi4 being released in May! If you are a serious on-road guy, this vehicle may be in your future! Here are some details from the press release.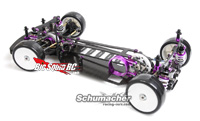 – New clamp motor mount to adjust motor centerline position and therefore side to side weight distribution. The car can be perfectly balanced with lipo or nimh batteries and provides symmetrical chassis flex.
-New quick release layshaft design for ease of maintenance.
-New ability to flip transmission to mount on other side to change weight balance for lipo or Nimh.
-Quick release diffs – Just 2 screws!!
It sounds like Schumacher has really gone out of their way to make sure us LiPO guys are happy, and that they did their best to make the vehicle easy to work on. It's a lot easier to enjoy a day at the track when you spend more time driving then wrenching!
The full press release will be in the NEW Product Forum.