Schumacher USA Partners With "Baghdad International Speedway"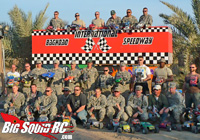 Schumacher USA is proud to announce a sponsorship and support agreement with the Baghdad International Speedway R/C Club for all the Soldiers and Civilians at the Camp Liberty R/C track.
Schumacher USA was recently contacted by Sergeant First Class Sam House (Ret.) in Baghdad Iraq about their local R/C club, "The Baghdad International Speedway R/C Club", located at the Al-FAW Presidential Palace at the Victory Base Complex. The R/C club runs every Sunday where soldiers come to race their radio controlled vehicles and take a break from everyday life in Iraq. Once per quarter the club runs a larger race with race giveaways and prizes for the winners. The R/C club is a full mix of different nitro and electric vehicles and there is a class for anyone. The club gives the civilians and soldiers a sense of home while serving their country.
Schumacher USA is more than proud to be a part of grassroots racing in the USA, and to be a part of the same grassroots racing for our soldiers serving their country overseas is truly a blessing. We wish all the soldiers and civilians our best and hope that the Baghdad International Speedway can provide some much needed enjoyment until they can safely return home.