Schumacher USA Speed Passion Brushless – Off Road Editions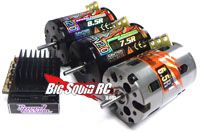 It looks like the Schumacher USA Speed Passion motors are now ready to get dirty! The new Competition 2.0 brushless motors come in 8.5, 7.5, and 6.5t. They are built to handle 2wd and 4wd off road vehicles. Make sure if you pick these up, to grab the Speed Passion GT ESC that comes with the programming box!
You can read the full press release in the NEW Product Forum.