Scooby Horton Signature Edition Scalpel Conversion Kit
Just got this press release and pics, I have to admit this is a pretty sweet looking kit!
Designed by local legend Javier "Scooby" Horton produced in cooperation with Sky Rocket Racing and Brown Engineering, the Scooby Horton Signature Edition Scalpel is a game changer. It brings the stability and predictability of a 1/12 scale pan car to the 1/18 scale direct drive world. This conversion kit consists of a new 6 cell chassis that extends the wheelbase to 150mm, a larger more consistent center shock, custom side dampening tubes, a redesigned upper pod plate, angled servo mounts and redesigned fiberglass t-bars, this conversion provides a comprehensive performance increase to an already potent micro pan car. The "tunablility" of this kit makes it at home on asphalt or high bite ozite. Running Skyrocket batteries Scooby used the pre-production version of this kit to take the Micro Great Lakes Challenge Pan Car stock class at Hobby Stop West in Toledo Ohio, by a whopping 3
laps!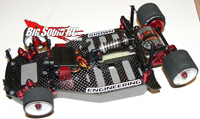 There are 3 versions the 6 cell chassis, and the Oval chassis, both of which are available now. The Lipo chassis version shown in the photos is in the final stages of testing and will be debuting very soon.