ShenDrones "Butters" MiniQuad Frame
New from Andy Shen (the mad scientist of mini quads) and ShenDrones comes the "Butters" frame. Coming in at a tiny 130mm, Butters swings 3″ props and features integrated prop protection. This little guy is meant for indoor slow flying for beginners or a winter alternative for experienced pilots. The guarded prop design makes this frame exceptionally safe for indoor use.
The bottom plate is 2mm, the top 1.6mm. The FPV cam plate is tilted 10 degrees. At 92 grams, Butters is optimized for 1306 3200kv or 4000kv motors and 4s batteries.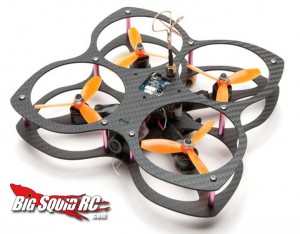 Butters is street priced at $90.00 and available right here from GetFPV.com. Check out some more specifics on this frame at ShenDrones Butters page.
Want more FPV news from Big Squid? Click right here!