Shipping Now – HPI Savage XL Octane Gas RTR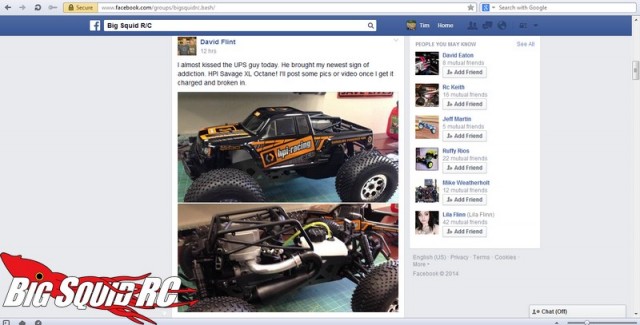 Hang on rc world, here comes gas.
If you have been by our BigSquidRC Facebook Group lately, then you will have seen that the HPI Savage Octane has shipped and is started to hit consumer hands. One of the members of our group, David F., has already posted a few pictures of his HPI Octane, so we thought why not show off a few more!
We continue to hear reports of them hitting local hobby shops and popping up on eBay. While most (all?) of the trucks on the first shipment have been spoken for, there are bound to be a few that will slip through the cracks. If you want to be one of the first people to check out the gas powered Savage Octane, now is the time to land one.
The HPI Savage Octane has a part number of #109073 and are street priced at $869. We see them being listed as high as $1200 on eBay, so good luck finding one at close to street price.
If you can't get your hands on one.. at least you can enjoy the pictures above. While you are at it, let us know in the comments if you plan on being part of the GAS revolution or not. We'd like to know what you guys think!
The full BigSquidRC review of Savage Octane goes up next week, until then hit up This Link to check some of our other recent reviews.