Shocking Drone Use in Europe!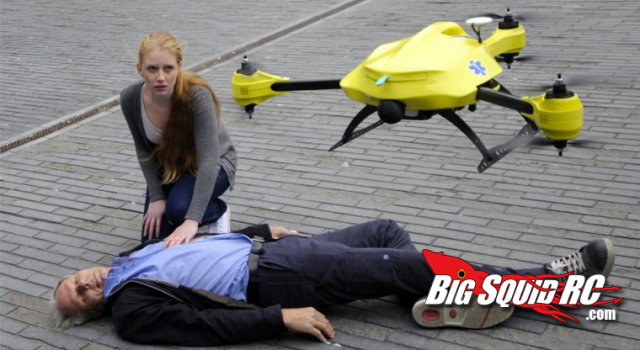 Ever have that moment when you let your buddy use your RC and it hits that parked car, tree, or mailbox? Granted my family's abilities have made my heart skip a beat, but what if I have a heart attack and drop? Statistically, those who call 911 or any emergency number have to wait 10 minutes for first responders, and that results in an 8% survival rate. Not good odds for me, but a student in the Netherlands has developed a solution: an ambulance drone. By being able to reach a location in a few minutes, local Samaritans or family can use the equipped defibrillator on the drone to help the person in need. The drone is also equipped with video and audio so medical professionals can walk someone through a situation and greatly increase survival chances for the patient. You can see details about the drone in the YouTube video below, as well as a mini-demo.
It's nice to see some good in the news in regards to drones, and seeing the possibilities I look forward to the fleet of 'Medi-drones' that will save Brian next time I miss a deadline 😉 Until next time, Stay Shiny and Keep Flyin'!