Short Course Wheels and Tires from AKA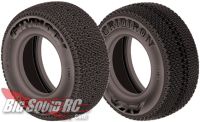 The all-star team at AKA has a few new products out for short course racers.  For the first time AKA is bringing their best selling 1/8 scale Cityblock tread pattern to short course tires.  It has a varied step-pin/bar hybrid design.  The Cityblock SC tire should be a good match for many different track conditions from loose to high traction.  The Gridiron is another popular 1/8 scale tread making the short course jump.  The Gridiron SC is a mini-pin tire, making it a better choice for high-bite, blue grooved conditions.  Both tires will be available as pairs with foam inserts and molded in super-soft and soft compounds this September.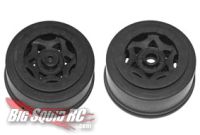 Now that you have tires you'll need some wheels to mount them on and AKA has those too.  The Cyclone SC is a 2.2″/3″ standard wheel that will fit all the popular 1/10 scale short course trucks on the market.  These wheels are molded in the same nylon blend that is used in AKA's 1/8 scale buggy wheels.  The Cyclone SCs will be available in pairs this September as well.  You can get them in any color you like, as long as it's black.
AKA hasn't updated their web site with these new products yet, but you can check it out anyway if you feel like it.