Simple Tricopter 2.0 Review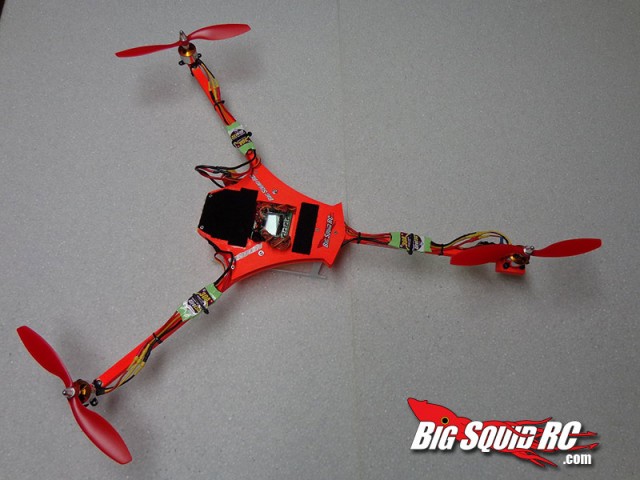 Hey guys, it's 3DBill here with something a bit different for you:
Multirotor (Tri, Quad, Hex, and Octo-Copters) aircraft are the new rage and quadcopters are THE item to pick up this Christmas at all the local hobby shops. Tri copters are a bit different from your standard quadcopter and quite fun to fly as well. Read More to check out the review and video of a fun tricopter kit from Simplecopter!
From: Simplecopter.com
Direct Link: Simple Tricopter 2.0
Review By: 3DBill
Pics By: 3DBill
Specs:
RTF or Kit: Kit
Electric or Gas: Electric
Airframe Weight: 6.6oz
Street Price: $39.99 (Airframe Only)
Capable of carrying a GoPro?: Yes, but no mounting materials included in kit
Primary Competition: Flitetest Anycopter
What's Needed To Complete:
3 x 20-30Amp ESCs
3 x 2208-2212 size BL Outrunner Motors
Multirotor controller (Common Controllers are KK2.0 multirotor, Naza-M, and many Arduino-based 3-axis control boards)
Mirco servo to control rear motor (known as Yaw Control)
Parallel Harness to connect all 3 ESCs to Battery
4-6 Channel Aircraft Radio with equivalent receiver
3 or 4S LiPo Battery and Charger
Standard and Reversing Electric Propellers (see build list for size)
Velcro to mount battery
Metric Hex, Phillips, and Standard Screwdrivers (found in any Basher's Pit Box)
Materials Used in Test Build:
Motor: 3 x 1400kv BL Motors
Speed Controller: 3 x 30 Amp BL Escs
Flight Controller: KK2.0 Multirotor Control Board
Servos: Hitec HS-82MG
Props: 8×4.5 and 8×4.5R (R – reversing)
Low Voltage Cut-off: Not Standard on a Multirotor, but meter can be added to balance plug of LiPo
Radio: Spektrum DX 7
Battery: 3s 2200mah
All Up Weight (AUW) after build: 27.6oz with gear as tested

Runtime: 6-10 min using above setup (depends on throttle usage and flying style)
Build Quality: The kit comes with CNC cut birch frame plates and pine for the arms and yaw block (for tail motor) and is almost fully assembled. The servo to rear yaw block connector is optional when ordering but one is needed to complete the heli build. Heli skids add nice looks and durability for landings but are also optional when ordering but both were included for this review. Overall quality was really nice but being made of wood you might want to lightly sand the frame a little prior to painting if you want perfection and make sure the yaw block and servo linkage move freely if there is too much friction. The frame and arms are bolted together with Phillips head screws and a couple hex head bolts and use blind nuts on the underside of the frame. I'd suggest using some loc-tite to keep them from loosening up during flight. Once you spray or brush on some paint the Phillips head screws can be tightened down to countersink them completely flush with the top plate of the frame.
Test Flyer: 3DBill
Test Venues: Front Room, Backyard, Local flying fields, and Hobbytown in Orland Park
Set-up Notes: It helps to watch the build video at Simplecopter if this is your first multirotor kit. Unlike RTR cars or RTF aircraft set up is everything with a multirotor kit and the simple tricopter 2.0 does not include a build manual. Knowing how to set up the flight control board you choose makes your first flight less eventful and after that you can fine tune the settings to your flying style and get the best flight performance. Most experienced pilots/builders can usually have this kind of heli up and ready to test within an evening or two. Assembly is straight forward if you watch the build video, but you really need to pay attention to the details when setting up your particular radio and the flight control boards on any multirotor heli.
Flying: Tricopters are a lot of fun to fly and if you currently enjoy flying quadcopters you owe it to yourself to try one. Yaw control is quick, precise, and very smooth, which is one of the biggest reasons many prefer tricopters over standard quadcopters. Orientation is very good with tricopters as well making it easier to tell orientation when you fly further out or when flying acrobatic maneuvers (flying 'Acro'). The simple tricopter 2.0 is light and a very capable acro machine. Loops, flips, and rolls are a lot of fun to perform and it's a large enough machine to handle plenty of wind.
Sport Flying: On low rates with standard flight controller settings it's very manageable and great for carrying a GoPro or other small sport camera
Acro: Awesome for acrobatic maneuvers. On high rates with the flight controller settings turned up you can do flips and rolls just a couple feet off the ground
Flying With A Gopro: Carried the GoPro with ease
Take Off: Similar to a quad or heli
Landing: Also similar to a quad or heli
Power: Plenty of power for sport and acro flying. If you use a build like the one I tested with, you can keep the GoPro mounted for acro maneuvers and see how flips and rolls look on camera!
Radio: My DX 7 Worked well, as should any digital radio system.
Broken Parts: Busted one of the front arms doing one too many flips under a tree. Repaired it easily but Simpleopter has replacement parts available.
Beginner Pilot Friendly: You should have some prior flight experience with a quad or a co-axial heli, because its a kit: set up can make or break how well it flies.
Misc Notes: Because it's made from wood and uses 1/2" by 1/2" square stock for the arms if you can't wait 2-3 days for replacement parts you can go to most home centers and buy the wood and cut and drill your own replacement arms. The simple tricopter is well priced and easily repairable and if you're trying to advance your flying skills that's exactly what you need: something that is fairly durable and easy to repair so you can keep flying instead of waiting for parts.
Best Mod Under $5: Colorful paint or props for good orientation
Best Mod Over $5: Flashed, or reprogrammed ESCs can increase response time and really bring out the beast inside this aircraft
---
Summary:
A = Outstanding/Best in Class, B = Above Average, C = Average, D = Below
Average, F = Horrific
Time To Bash: C It can be assembled in an evening if you have everything you
need.
Workability: B There are no complicated parts to dismantle or build
Air Show Rating: C It looks nice but doesn't have the 'bling factor' that carbon fiber or aluminum pull off so well
Bash-A-Bility: C Its fairly durable for a tricopter.
Fun Factor: A Light weight and very capable for acro/stunt flying.
Value: A $39.99 for a reasonably durable tricopter thats easy to repair.
Parts Availability: B Except for the frame plates, screws, and blind nuts all other parts are available at this time via the Simplecopter site. As stated, some parts can be reproduced by picking up material from local home centers or hobby shops, but Simplecopter is an online only kit dealer.
BigSquid Rating: B There isn't a whole lot of wooden frame tricopter kits to choose from. Durability is fairly good,flight performance and design are really nice. If your looking for a tricopter frame that is relatively inexpensive to practice acro with or just hover around without expensive repairs after a crash or waiting for parts the simple tricopter 2.0 is well worth the price to build your first kit.
Check out the video of the Simple Tricopter 2.0 in action below. Make sure to watch it in HD