Simplecopter V-Tail "The Tilt" Review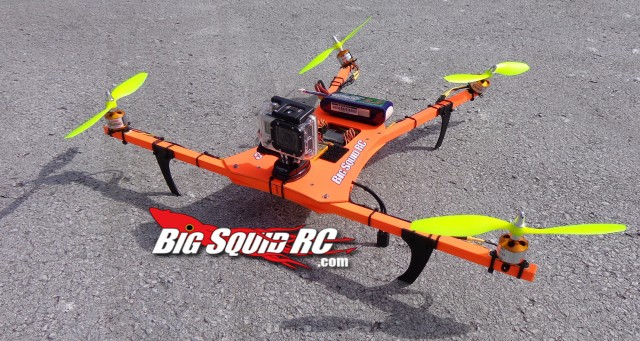 Hey guys, 3DBill here, reviewing another V-Tail style quad. This one really is versatile just like a SUV when it comes to v-tail quads. The Simplecopter V-Tail can be folded, painted, customized, and comes as a kit for you to build. How does it stack up? Can it hold a camera? Hit the READ MORE button to check it out!
From: Simplecopter
Direct Link: http://www.simplecopter.com/simplecopter-v-tail-the-tilt/
Unboxing Pictures: 
Review By: 3DBill
Pics By: 3DBill
Simplecopter Tilt Specs:
RTF or Kit:Kit
Width: 22" motor to motor for the front(550mm size class)
Airframe Weight:8.5oz
AUW RTF (Total Weight after assembly including Battery): 32oz with gear used and 3s 2200mah lipo
Capable of carrying a Camera: Yes (Tested Using GoPro and Mobius Cameras
Electric or Gas: Electric
Motor: 2212/1400kv
Speed Controller: 30 amp standard ESCs
Flight Controller: KK 2.0(1.2 Firmware)
Props: 8×4.5sf tested
Low Voltage Cut-off:(You never want LVC on a Multi)
Radio:Spektrum DX 7
Battery: 3s 2200mah 35c lipo/4s 2650mah 35c lipo Tested
Runtime:6-9min with 3s 2200mah lipo,Hovering for 9 min on 3s 2200mah lipo indoors.
Warranty:N/A
Street Price: $ $49.99
Primary Competition: Lynxmotion Hunter 500 v-tail, Tornadoframes Whirlwind 600 v-tail. Though frame materials vary with each model, these two are relativly similar size v-tail frames. Multirotors are still in their infancy compared to RC cars or other RC aircraft, leaving much to interpretation in regards to true competition between frames.
What's Needed To Complete: A 4-6 channel computer radio, 30 amp ESCs, flight controller board, 2212 size outrunners, power harness for 4 ESCs or solder up your own power harness(for the review build additional 16awg wire was used to keep the ESCs inside the frame and extend the wires to the motors); 14awg wire was used to make the main power harness, props 8×4.5,3s lipo and charger, velcro, paint, zip ties, double sided tape, 3/32 hex driver, small phillips screw driver, and 5 or 6mm heat shrink will do. For many the basic tools as mentioned are one's standard RC arsenal in their Pit/Toolbox
Build Quality: The kit is CNC cut birch for the frame plates with 1/2" square pine arms. The rear arms are 1/2" square pine as well and have a nice 30 degree cut at the ends for the "Tilt" that the rear motors mount on for a v-tail design. Some light grit sanding can make the finish even smoother but it's good quailty to start and you can just brush on or spray paint it if you're not looking for perfection.
Test Pilots:3DBill
Test Venues: Backyard, Hobbytown Orland, Frontroom (Kids, Do NOT try this at home)
Set-up Notes: Set up is everything when you build a kit; usually v-tails need a bit more attention to set for the flight controller settings with the board I used. The Tilt didn't require much other than selecting the v-tail configuration layout on the board and lowering the throttle setting for the rear motors to 100 and it flew well with the gear i used. Simplecopter has a complete build and set up video on there site. No build manual for the frame is included though it's mostly preassembled when it arrives. There is plenty of good info in the build video on the site to walk you through your build and is well worth watching if your new to multirotors.
Flying: Flys really well on low or higher rates and is very stable. The stability and size make it great for flying around with a camera.
Acro: Awesome for acrobatic flight with the flight controller settings cranked up and its unique shape and larger size helps quite a bit for orientation as well.
Flying With A Camera:Carried the GoPro easily and a smaller, lighter Mobius Camera also worked well. It can carry both cameras for front and rear view video at the same time.
Power:Plenty of power on 3s LiPo, and with a 4s LiPo set up it kicks the performance up a notch.
Radio:Spektrum DX 7 (any 4-6 channel computer radio will work)
Broken Parts: No broken parts on the frame itself. I had one mishap during testing: I lost power to the right front motor while flying the 4s pack and it fell out from a flip a few feet over melting snow soaking the primary control  board. I unplugged the LiPo quickly and let it dry out over night and it was fine the next day.
Beginner Pilot Friendly:This should go without saying, but anyone new to flying or multirotors should start with a small Ready-to-Fly quad or quite a bit of simulator time before flying larger brushless multirotors.
Misc Notes: I used 3m HD plastic velcro to mount the GoPro and Mobius Cameras. It's rated at 2lbs per square inch holding strength. I also used Rustoleum flouresent orange spray paint, and Rustolem flat black enamel spray for the landing skids. You can omit one screw for each rear arm and add a zip tie instead for added rear arm protection in the crash department.
Best Mod Under $5: Colorful props and paint.
Best Mod Over $5: Flashed ESCs improve flight performance noticeably.
---
Summary:
A = Outstanding/Best in Class, B = Above Average, C = Average, D = Below Average, F = Horrific
Time To Bash: C The power harness, painting, and extending the wires to the motors to keep the ESCs inside the frame slow the build time down a bit but it can still be assembled and ready to fly in about an evening if you plan ahead. Took me about a evening but I had to wait on 16awg wire I didnt have on hand during the assembly.
Workability: B It's easy to take the frame plates apart quickly if you need to replace electronics.
Car Show Rating: B I really like the looks,it has plenty of room to put BigSquidRC stickers on and you can paint it any color you like to jazz it up.
Bash-A-Bility: C+ Crashed once during testing but didn't break anything. The simplecopter frames currently all use folding front arms and this adds noticeably impressive durability during most crashing.
Fun Factor: A Great for acrobatic flight; flys with good stability on lower rates as well.
Value: A $49.99 Best bang for the buck v-tail frame,Lots of room for a camera or other gear on this frame.
Parts Availability: C Front and rear booms only shown on simplecopter site at this time.
BigSquid Rating: B Flys really well; Great for acrobatic flight but tame enough on lower settings for newer pilots. Works really well for camera flying.