Slot and Wing Bash Thoughts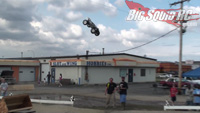 So last weekend the Big Squid RC Bash Crew (as Cubby likes to call us) headed out to Champaign Il, to Slot and Wing Hobbies for their yearly bash event. It's always fun when we can all get together and just have a good time bashing. We weren't there worrying about testing products, or running the event, we were there just to have fun!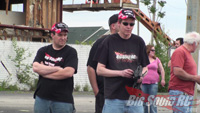 Myself, Bill, Tim and Jim all met up to partake in some cool events. I'll be posting some video in the next few days, but didn't want to just slap something together, since it was a good event, and we got some cool footage. So I have tossed up a few screen grabs here to keep you thirsty for more later.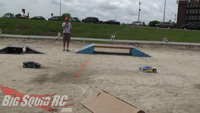 Tim and Bill tied for first in the high-speed event. We brought our dragsters, but the parking lot was rough, those things wouldn't of gotten 10 feet. Tim got 51mph in his electric buggy, while Bill also hit 51mph with his nitro Jato!
After the high speed run we participated in the tug of war, Tim and I both jumped in with our modded SC trucks. There wasn't really much traction on the track, so it was more a matter of who's gears would fail first.. lol.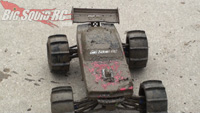 After the tug of war, there was the High Jump and Long Jump events. I ended up pulling out the win in the high jump competition, I couldn't believe the air time! That green ramp is at least 8 feet tall! The pictures don't do it justice, wait for the video! Tim beat me in the long jump event with 83 feet off a 18 inch ramp. I took second with 79!
After the jump events came the mud bog drag race! We didn't even know about this event on the way down, so we didn't bring vehicles for it. Tim made a good effort using his buggy with Bill's truggy tires, and he won a few of the races, but his receiver fried after it got mud logged. LOL.
After the mud drags, came the demolition derby! This was a great time with 20+ vehicles going at it! Last truck standing, so if you rolled you were out. The Big Squid Crew made up the final 3 trucks with Jim taking the win with his stock Traxxas Slash!
The day was wrapped up with the final event, the freestyle competition. The event was judged based on crowd response, and it was fun to try and get the crowd into it. Tim was using his HB V8 buggy going for huge air, at one point jumping completely out of the track/event zone.. I was using the Savage Flux where I wowed the crowed with consistent back to back to back – backflips, but Bill took home the crown by landing a double back flip for the crowd with his nitro 8ight-T. We took first, second and third in freestyle.
The guys running the event were great, and so were all the volunteer's that helped set up the event and build the ramps! It's always great to travel and meet new people. If you get a chance, make sure to check out the Slot and Wing Hobbies shop if you are in the area!
We ended up winning most of the events while making a bunch of the local kids happy. Every time we won a prize, we would pick a kid and give it to them. I'm really looking forward to the next event there. If you stop by their shop/track tell them Big Squid RC sent ya!