Some odds and ends from Exotek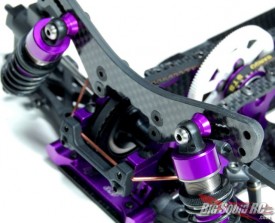 EXOtek has a couple new items for a couple high-end cars.  Their new quick change shock posts for the HB TCX and Cyclone make changing shocks quicker.  But that's really not all.  These new pieces are lighter than the stock setup and have a shorter barrel that reduces slop in the suspension setup.
Their other release of the day is a set of titanium wheel locking bolts the TLR 22.  They're machined out of strong, yet light, titanium, and feature an angled locking serration to keep the 22's front wheels securely on the buggy.  Because there's nothing worse than driving a car and then having a wheel pop off.
The list prices are $12.95/pair for the 22's locking bolts and $28.95/set of four for the TCX Quick Change shock posts.  Check out the EXOtek website for more info.