Speed Passion 1:8 Scale Brushless Motors!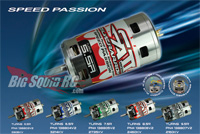 Looks like Speed Passion is coming out with their new 1:8th scale line of brushless motors! These new motors come in 5.5 to 9.5 turn versions, and the new Silver Arrow 2.0 series motors claim to be 25% they have cut down 25% of the heat normally generated from high speed and high torque brushless motors! With brushless the obvious way of the future, it's nice to see people starting to improve the technology already!
Visit the official Speed Passion website for more details.