Speed Passion Grand Turismo Version 2.0 LPF Speed Control Review
THE Speed Passion Grand Turismo Version 2.0 LPF Speed Control Review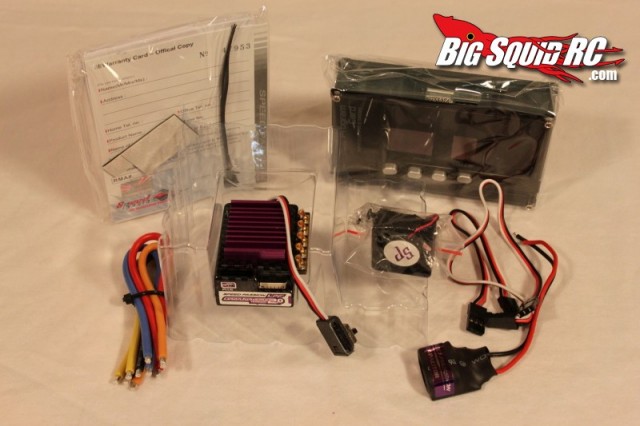 Speed Passion is one of several speed controller companies that got huge during the brushless revolution. Speed Passion did so more by putting out good solid products than by their impressive racing resume. Is the Speed Passion GT 2.0 a good speedo for your bash machine? Read on…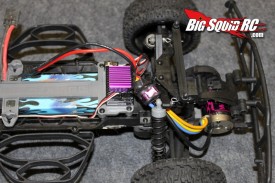 From: Speed Passion USA
Direct Link: GT 2.0 Low Profile Speedo
Review By: Cubby
Pics By: Cubby
Street Price: $140
Speedo Specs-
Brushed or Brushless: Brushless, Sensored and non-sensored
Footprint: 43 x 35 x 24 mm
Weight: 60 grams
On Resistance: .0006 ohm
Max Cell count: 8 cell Ni-mh, 3 cell Lipo
BEC: 5.75 volts, 3 amps
Max Current: 440 amps
Motor Limit: 5.5 Turns on 2S, 9.5 Turns on 3S
USB Software Upgradeable: Yes
Wire: 14 AGW
Fan: Yes, 25 mm
Warranty: 90 day limited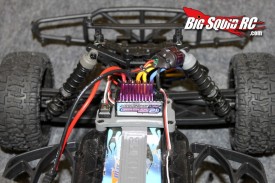 Primary Competition: Novak, LRP, Castle, Viper, Venom
What's In The Box: GT 2.0 LPF speedo, short and long receiver cables, programming card, capacitors, fan, wires, instruction manual
Build Quality: Good looking build quality.
Test Drivers: Cubby, Brian, Iron "CA Hand" Mike
Test Venues: Jake's Race Place in Fairmont City Illinois, RiverCity Raceways in Peoria Illinois, Dirtburners in St Louis Missouri, various streets and backyards
Set-Up Notes: We ran the Speed Passion GT 2.0 LPF in an ECX Torment, Losi XXX-SCT, and an Associated T4. We used only MaxAmps 2S 6500 Race Spec packs during testing. We used two different motors on the GT 2.0, a Speed Passion 17.5 and a Speed Passion 11.5.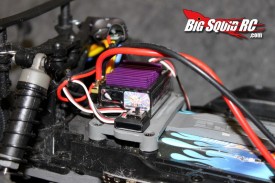 Power: I didn't do any back to back comparisons against other speedos, but it felt like the GT 2.0 was putting out good power.
Ease Of Use: The Speed Passion gets my vote for easiest to set-up (and to make changes to) speedo on the market. Calibration to various transmitters was exceptionally easy, as were set-up changes via the included programming card. Seriously, a kinder-gardener could set up one of these speedo's to perfection.
Efficiency: Once again, I didn't do any immediate back to back comparisons against other speedos, but it felt like we were getting plenty of runtime with the GT 2.0.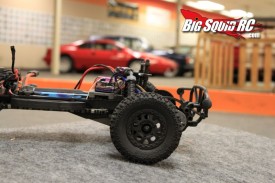 Drivability/Feel/Powerband: As I mention in the "cogging" area the Gran Turismo 2.0 wasn't as smooth from a dead stop as some other speedo's we've tested. Out of ten tries from a dead stop, lets say 7 of them were very smooth, but on the other 3 you could feel the slightest amount of choppiness. Farther up the rpm range the Speed Passion was very smooth, the mid-range was strong yet linear, and the top end just kept on pulling. When used with only forward and brake, life was very smooth, but when switched over to forward/brake/reverse the speedo tended to be notchier. The GT 2.0 wasn't as smooth going from forward to reverse to forward as other speedo's we've recently tested.
Brakes: Awesome brakes. Plenty of strength with exceptional feel. On high grip surfaces they had plenty of controllable power, on slick-as-snot dusty off road tracks they were precise and controllable. And… if you don't like how they feel, they are ultra adjustable, as is everything else on this speedo.
Thermalling: We experienced no thermalling, in fact, the hottest we ever saw the speedo get was 30 degrees over ambient. No, we weren't running the heck out of it on 3S or running ultra low turn motors, but we were gearing our 11.5 to the moon on a short course truck and that didn't seem to come close to making the GT 2.0 break a sweat. Oh and- we never installed the included fan.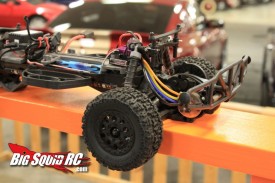 Cogging: We experienced a small amount of cogging occasionally from a dead stop. Barely noticeable, and didn't happen every time, but still not as smooth as we've come to expect from Speed Passion.
Fit: The GT 2.0 LPF isn't a large speedo, but it's not tiny either. But… the footprint and height on the GT 2.0 was never an issue during any of our installs.
Broken Parts: None, zip, zero, worked liked a champ with no issues.
---
As with all of our stuff, if you see us at a bash, stop by and check out the vehicles we have with us. We may let you take a test drive, and at the very least get you some stickers!
SUMMARY
Time To Bash – 6.5/10 -You'll need to solder up the two power wires to the speedo, solder a connector to the power wires, then solder the two cap wires to the speedo, then the 3 motor wires to the speedo, then the 3 motor wires to the motor. Then… calibrate, and make final adjustments via the programming card. You are looking at roughly an hour for the install.
Car Show Rating – 8.5/10 – Carbon fiber looking case and trick looking anodized heat-sink were well liked around the office.
Bash-A-Bility – 10/10 -Absolutely nothing broke during our testing even after huge jumps, smashing into curbs at high speeds, etc.

Fun Factor – 8.0/10 – We had a great time wheeling the GT 2.0. It powered our bash vehicles for hours with no issues.
Drivability – 7.5/10 -Exceptionally smooth mid to top end, fantastic brakes.
Value- 7.5/10 – Not the cheapest speedo on the market but one that's always up for a good thrashing.
Big Squid Rating – 8.0/10 – Tentacles.. Exceptionally easy to program, more adjust-ability than you will ever use, the Speed Passion GT 2.0 is a solid performer.
Need more pictures? Check out our unboxing photos of the GT2.0.