The Speed Passion RS1 Review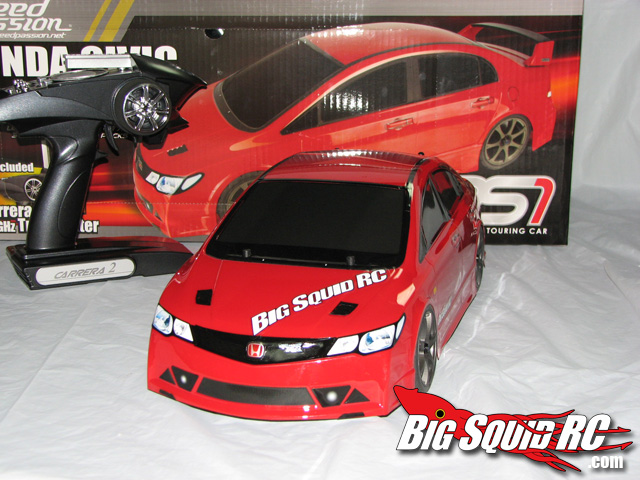 When we caught our first glimpse of the Speed Passion RS1 at the RCX Chicago show, we have to admit the $99 sale price is what caught our attention first. From there it was the RTR with a Brushless system and 2.4GHz radio, all for $99!? It was tough to believe, so we picked one up to see for ourselves! Keep reading to find out our thoughts…

From: Speed Passion
Direct Link: Speed Passion RS1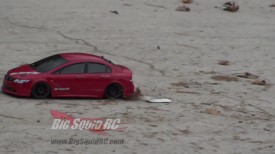 Specs- –
Scale- 1/10th
Colors- Red Honda Accord Body
Kit or RTR- RTR
Length- 400mm
Width- 190mm
Wheelbase- 260mm
Motor- Sport Tuned V2.0 Non-Sensored Brushless, 13.5T, 3000 kv
Speedo- Speed Passion Cirtrix Inspire V2.0
Radio- Speed Passion Carrera 2, 2.4 GHz
Shocks- Plastic Bodies, Oil Filled
Rims- Black Spokes
Tires- Speed Passion Street Tires all around
Bearings- Full set, rubber sealed
Waterproof- "Waterproof Design" is posted for transmitter, "Water resistant" is listed for the speedo.
Weight- 700g without Lipo
Warranty- 90 days on the speedo
Street Price- $149 (but we saw them on sale at RCX for $99)
Primary Competition– Team Associated TC4 RTR, HPI Sprint 2, Tamiya TT01 etc..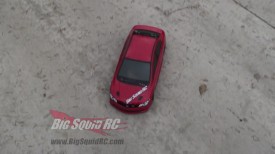 What's In The Box– It comes with everything you need to get going minus the batteries. So you'll need 8AA's for the transmitter and a 6 cell NiMh or 2S LiPo and then your up and running.
Build Quality– Was about average. There was one or two loose screws, but nothing to really complain about. The car was completely drive-able out of the box.
Test Drivers– Brian, Wrench, Cubby
Test Venues– Neighborhood cul-de-sac, streets, parking lots, and a skate park.
Set-up Notes– Our RS1 completely stock with the exception of adding Deans plugs. We used several branded 2S LiPo's during testing. The RS1 comes with this hinged battery 'cage'. It's meant so you can slide a NiMH pack in quickly, fold it down, pin it and go. NiMH packs fit with no problem. We had some issues as only our smallest LiPo packs would fit inside this cage. With some strong scissors, we were able to cut the bottom of the cage to allow it to expand to fit other size LiPo packs. Not a big deal, but something you will probably have to deal with.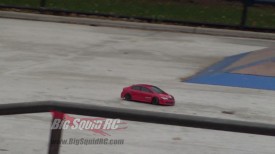 Turning– The Speed Passion RS1 does a decent job of keeping all four wheels planted to the ground even when heavy on the throttle. It felt well balanced, and the low center of gravity allowed little chance for traction roll. Like most RTR's a faster/stronger steering servo would of helped muscle the car around a little better because with all of that power coming from the brushless it wanted to track forward a little more than turn giving us some slight understeer.
Suspension– The stock springs and setup worked well for our less than ideal conditions. In true basher style we were running full bore over all sorts of surfaces. From rough streets, off curbs and even the occasional (read dozens) of jumps at the skate park. The suspension held up to some serious abuse. It seemed to provide the right amount of roll to keep us firmly planted in the turns.
Tires– For our street bashing, the included Speed Passion tires did just fine. There was no excessive wear, we had a good amount of traction on many different types of surfaces from concrete to asphalt with some occasional wood thrown in for good measure.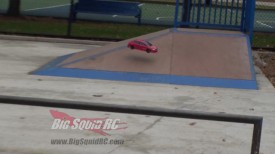 Power– the RS1 had good power overall. Our top speed on a 2S Lipo was just over the 30mph mark. For a budget on-road car this made us more than happy. For actual torq it did seem a little light off the line. It was difficult to break the tires loose when you wanted to. The low end just didn't have the punch we were looking for, but the top end was right there. I think if we spend a little more time trying to tweak the ESC settings we could of gotten it closer to what we were looking for. We did enjoy ourselves getting some drifting in, with the included rubber, it wasn't easy to break loose around those corners, but on dusty/dirty surfaces it was easy to keep in control.
Radio– From our Speed Passion RS2 Review, you can read that Cubby was a HUGE fan of the included transmitter. And it's still one of those love it or hate it sort of radios. It feels ok in your hand, but the look can really turn off some people. I haven't been using the included flash light very often, but I can see it's potential. I will say this, when it's sitting on a desk here with 20+ other radios, it's real easy to spot the Speed Passion. 🙂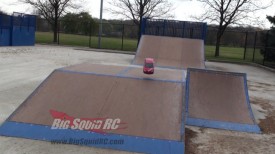 Broken Parts– During normal driving we had no broken parts, or the signs of any possible problems. We then started the abuse part where we were jumping it 4+ feet in the air at the skate park, running into barriers, still no problems. We then started running it into the metal poll we were drifting around on purpose! We finally busted a front ball joint and a-arm, but only because we were trying to. This vehicle is very durable under normal to above normal conditions.
Best Mod Under $5– Cut open that battery cage so you can fit larger battery packs in there, and throw on some Deans or Traxxas connectors for the batteries.
Best Mod Over $5– Go invest in some good drift tires for a little more on road fun!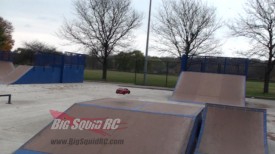 Misc Notes– If you notice there is no rear wing on our car. It does come with one you need to assemble. For some reason it comes in about 6 parts, with several different options that need to be glued and configured. While getting the RS1 ready to test I spent about 5 minutes trying to figure out how to properly assemble the wing so it would look good. I then gave up knowing Wrench and all his fixing skills was on his way.. I'd let him deal with it. He show's up, asks if we are ready, and without saying anything specific, I say 'We just need to get the back wing on, can you look at that?' 'Sure, I'm on it!' he says.. 15 minutes later he says 'We don't need a wing right?' Take that how ever you want to take it, but neither Bill nor I could easily make that rear wing look correct.. A cool carbon fiber aftermarket will look much better anyway!
As with all of our stuff, if you see us at a bash, stop by and check out the vehicles we have with us. We may let you take a test drive, and at the very least get you some stickers!
SUMMARY
Time To Bash – 8.0/10 -Cut the battery cage, charge some batteries, good luck with the rear wing!
Workability – 8.0/10 – It's a pretty simple setup. Could do without the phillips screws. Plenty of room to dig in and mount whatever you need to the chassis.
Car Show Rating – 7.5/10 – Nobody was really feeling the plain all red Honda body. The rims looked good.
Bash-A-Bility – 9.0/10 – We had to try to actually break something during our days of testing.
Fun Factor – 8.5/10 – Top speed of 30+ mph, 4wd action is a good time. A little more low end to break the tires free easier would of added to the fun.
Handling – 8.0/10 – Some understeer but that was due to a slightly under powered steering servo.
Power- 8.5/10 – It's fast, and for $99 it's got plenty of speed.
Value- 9.0/10 – It's would be near impossible to find a better valued on-road vehicle.
Big Squid Rating – 8.3/10 – Tentacles.. The Speed Passion RS1 is a great value. It proved extremely durable under normal to extreme conditions. It's plenty fast our of the box, and would make a good car for anyone looking to just get into the on-road hobby.
Don't forget to check out the Speed Passion RS1 Unboxing photos if you need some more pics. Also check out the Speed Passion RS2 Review if you are looking for more SP vehicle choices.