Speed Passion Sensored 17.5R Brushless Motor Review
THE Speed Passion Competition Version 3.0 Sensored 17.5R Brushless Motor Review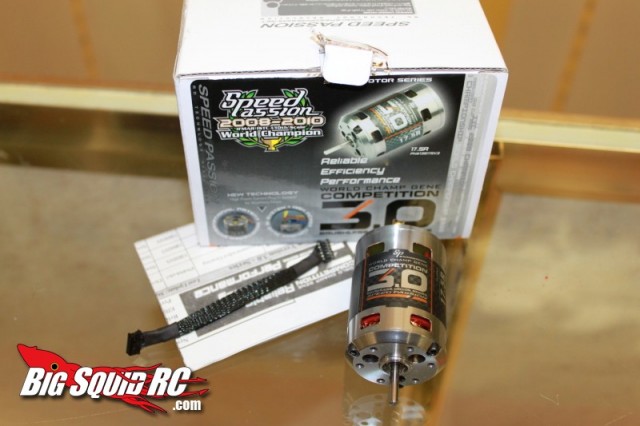 Are 17.5 sensored motors strictly for the racing crowd? Many people would say yes, but I'd argue that they can make great basher motors as well. A typical sensored 17.5 offers buttery smooth take offs from a dead stop, long runtimes and controllable power- a perfect set-up for noob bashers. This week we'll be taking a look at the Speed Passion Comp V3.0 17.5R, is it good for bashing? Read on…

From: Speed Passion
Direct Link: Speed Passion Competition V3.0 17.5R
Review By: Cubby
Pics By: Cubby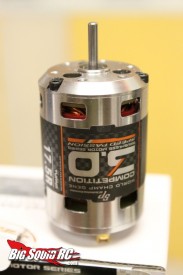 Motor Specs-
Size: 540
Sensored: Yes
Turns: 17.5
Output shaft: 3.175 mm
Max Input voltage: 8 cell NiMh
Max Amperage: 16
Kv3: 2700
Hand Wound: Yes
Thermal Protection: Yes
Vented Can: Yes
Warranty: 30 Days
Street Price: $60
Primary Competition: Novak, LRP, Tekin, Viper
What's In The Box: 17.5R motor, instructions, sensor wire.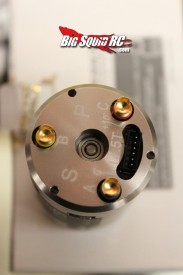 Build Quality: Very nice machining on the can, connectors on end-bell fit like a glove, very nice.
Test Drivers: Hawaiian Chris, Cubby
Test Venues: Jake's Race Place in Fairmont City Illinois, SmacTrac St Louis Missouri, Costco parking lot
Set-up Notes: We ran the Speed Passion 17.5R in two different platforms, an Associated RC10B4.1 and an Associated RC10T4. We used various 2S Lipo batteries and kept timing and gearing on the conservative side. We used speedos from both Novak and Castle during testing.
Power: Compared to other 17.5 wind motors the Speed Passion definitely held its own and then some. Low end was perhaps a tiny bit softer than some others in its class, but the mid range and top end pulled hard for a 17.5. No, the Speed Passion 17.5R won't come close to keeping up with higher kv basher motors, but compared to other 17.5's we felt it had a lot of power.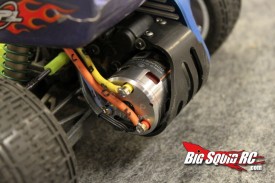 Efficiency: The venues where we were testing had fairly low ambient temps, right around 70 F, and both were fairly small facilities, so we weren't geared or timed very tall, resulting in easy conditions for the motor. With that said… we experienced very reasonable motor temps (the highest being around 130 F) and excellent run times.
Drivability/Feel/Powerband: The Speed Passion felt quite smooth except for the mid-range where it came alive. The mid range didn't have a huge hit, nor did the small mid range hit make it hard to drive by any means, but the motor definitely did seem to come alive at that point. And no, it wasn't anywhere near as severe of a hit as you'd find on some non-sensored low kv motors, it simply felt like it had a bit more kick-in-the-pants in the mid range than other 17.5's we've driven (that felt boringly flat through the entire powerband).
Cogging: We experienced no cogging while testing the Speed Passion 17.5R.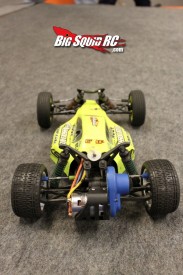 Brakes: Our Speed Passion 17.5R gave smooth, progressive braking. Brakes weren't forward-flip-your-truck-nutz like on high cell count non-sensored motors, but our Speed Passion 17.5R had controllable braking, with enough authority to more than get the job done with stock settings on the speedo.
Broken Parts: None, worked like a champ with no issues.
Misc Notes: The can on the Speed Passion motor is vented. Venting is good for keeping a motor running cool but is bad if you are trying to keep dirt out. We put stickers (BSRC of course) over the vents holes when we ran on loose dirt.
Wires connector to the motor via connectors on the endbell. This isn't optimal from a current standpoint, but sure comes in handy when switching our motors. I liked'em.
---
As with all of our stuff, if you see us at a bash, stop by and check out the vehicles we have with us. We may let you take a test drive, and at the very least get you some stickers!
SUMMARY
Time To Bash – 8.5/10 -Install is as easy as switching out a motor, plus we liked the connectors on the motor endbell.
Car Show Rating – 9/10 – Nice machine work, trick looking motor, will look awesome in the back of your buggy/truck/car.
Bash-A-Bility – 10/10 -We couldn't break the Speed Passion motor, rock solid.
Driveability – 9.0/10 – 17.5's aren't about throwing your tires off the rims, they are about controllable power and our Speed Passion 17.5R was no exception. The Speed Passion 17.5R is very easy to drive hard without having to worry about pounding a curb at warp 6 or blowing your tranny up.
Fun Factor – 8.0/10 – Long run times with controllable power equals fun!
Power- 6.5/10 -If you want to do 100 mph this isn't the motor for you, but if you are looking for enough power to make nearly all the jumps at your local track while getting outstanding run times, the Speed Passion 17.5 is a good unit.
Value- 8.5/10 – With a street price of $60 and good power for its wind, the Speed Passion represents a good value.
Big Squid Rating – 8.5/10 – Tentacles.. Speed Passion is making a habit of putting out good products at an affordable price point and their Competition Version 3.0 17.5R is another example of such. If you are looking for good power without breaking the bank, the Speed Passion 17.5R should be on your shopping list.